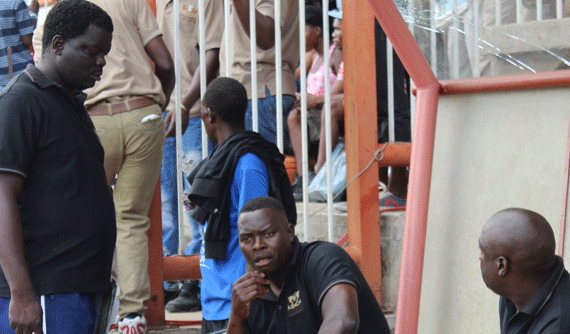 INDICATIONS are that the sponsors of the country's richest 16-team tournament Mbada Diamonds Cup — Mbada Diamonds — could release $110 000 to the country's representatives in the Confederations Cup How Mine, but would also demand exclusive branding. Brian Nkiwane SPORTS REPORTER
Speculation has been that Mbada Diamonds was going to keep the money to themselves as their contractual agreements with the Premier Soccer League (PSL) states that "they will give $110 000 to winners of the tournament as well as demanding exclusive branding of match kits during the tournament".
Chikurupati — as How Mine who have been credited for giant killing acts in this tournament are known by their supporters — got the ticket to represent the country in the Confederations Cup t as winners of the this year's edition.
Highlanders are still serving a three-year suspension for failing to fulfil first round fixtures in 2011.
Bosso will only be eligible to participate in Caf competitions in 2015. Contacted for comment, Mbada Diamonds officials.
George Manyaya and Major Mahlangu could not reveal much, but referred all the questions to PSL.
"We have a contractual agreement with PSL. Our contractual agreement states that we will sponsor the winners of the tournament. So in this scenario, we will stand guided by PSL," Manyaya said.
"As we stated in our contract, we sponsor the winners, but now this scenario is outside our contract so we would seek guidance and again, How Mine are yet to approach us," Mahlangu added.
PSL chief executive officer Kenny Ndebele echoed both officials' sentiments adding that there were a number of contractual obligations both parties, Mbada Diamonds and How Mine, have to agree on before putting pen to paper.
"We have not yet engaged the sponsors. In this case runners-up will be like getting more that the winners if you look at it closely. As PSL we have been waiting for communication from How Mine. It's good that they confirmed their participation through Zifa on November 28. Now what we are waiting for is whether Caf is going to accept their participation. From there, we will start negotiations on the proposed Mbada deal," Ndebele said.
Ndebele added: "From my point of view, there will be no conflict of interest between Mbada Diamonds and Metallion Gold the sponsors of How Mine as the club has been using exclusive branded kits when they participated in this tournament. Only cubs like Highlanders who were eventual winners, Dynamos and Black Mambas had special kit branding as they have other sponsors."
How Mine football Club chairman Mlondolozi Nkomo said they were more than willing to partner Mbada Diamonds in this cause.
"I don't think there is anything that will stop or disturb our relationship with the sponsors as long as they are willing to extend their helping hand.
"As for the exclusive branding, this issue is clear. We have been playing in this tournament wearing exclusively branded kits, so what would stop us from doing the same in the Confederations Cup. I think it will be prudent for both parties to sit down and agree for the," Nkomo said.
Nkomo lamented the need to safeguard football sponsors in these hard times.
"It will not be good enough to dump Mbada Diamonds at this stage. We came into this tournament through participation in their tournament, so it will be unprofessional to dump them at this stage and chose to go it alone. We need to agree and move on," he added.