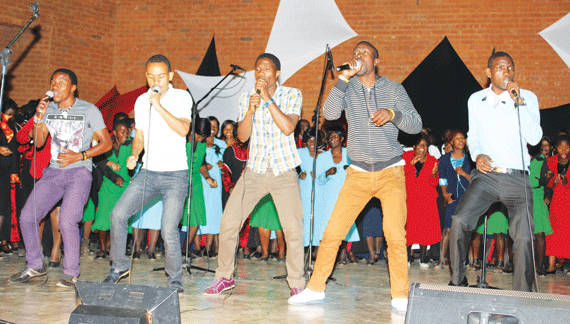 LOCAL a cappella gospel group Family Voices are ecstatic to be part of the supporting acts for the Oliver Mtukudzi and Suluman Chimbetu gig next week. SINDISO DUBE OWN CORRESPONDENT
Family Voices and Iyasa will share the stage with Tuku and Sulu in what is viewed as one of the biggest live shows in Bulawayo ahead of Christmas and New Year celebrations.
Brighton Ncube the group's co-ordinator told Southern Eye Lifestyle yesterday: "We are ready and excited to share the stage with a great man like Tuku and it is going to be the second time to do so, We performed at his 'Tribute' show which was part of his birthday celebrations.
"The feeling is great. Growing up, we always looked up to Tuku as an icon and now we are sharing the stage with him and he also likes our music. It is really an honour."
Ncube added that the promoters and Tuku loved their music which saw them being handed an opportunity to perform on the night.
"People should come in large numbers and support their own and we promise nothing but fireworks.
"We and Iyasa are flying the Bulawayo flag up high," Ncube said.
Ncube added that they had lined up a lot of new stuff for their fans.
"We have added dance in our works, many were used to us just standing and singing, but now we dance as well," he said.
Family Voices sings in Ndebele, Shona and English. The group is affiliated to the Family of God Church which has produced the likes of Eric Moyo, Victor Adams and Mkhululi Bhebhe, who is with South Africa's Joyous Celebration.