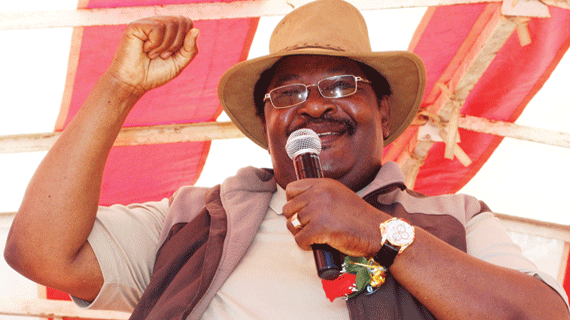 ZANU PF politburo member Obert Mpofu maintained his tight grip of party structures in Matabeleland North province after his ally Richard Moyo prevailed over his deputy Reeds Dube in provincial elections on Saturday.
NDUDUZO TSHUMA STAFF REPORTER
Moyo outpolled Dube, who is reportedly backed by politburo members Thokozile Mathuthu, Sithembiso Nyoni and National Assembly Speaker Jacob Mudenda.
Dube reportedly got most of his votes in Nyoni's Nkayi North constituency as she dispatched a car to campaign for him. He also got most votes in Mapfuwa and Hwange Central where he lost in the National Assembly elections, as well as in Hwange East. Medeline Bhebhe and Tamuka Nyoni, who are both linked to Mpofu, were elected chairpersons of the women's league and youth wing respectively.
Moyo yesterday told Southern Eye that he was happy with the support given to him by party members.
"I am happy that the people of Matabeleland North retained faith in me and now we will work towards strengthening party grassroots," Moyo said.
"The message I have for Dube is that we are one people and serve the same interests of the party. It is unfortunate that the people had to choose one candidate, but I call on him and everyone else to work together and unite people so that when we get to 2018, we regain seats lost to MDC-T."
In Bulawayo, Callistus Ndlovu shrugged off the challenge of his deputy Killian Sibanda and Douglas Ndlovu.
Also notable was the victory of Eva Bitu as chairperson of the women's league.
Bitu returned to the party after Callistus Ndlovu was appointed by the politburo to lead Bulawayo Zanu PF on an interim basis.
She had reportedly been frustrated out of her position by Zanu PF politburo member and Bulawayo Provincial Affairs minister Eunice Sandi-Moyo. Khumbulani Mpofu won the race to lead the youth league.
Ndlovu said the next step for the party was to reconstitute the provincial executive from candidates elected in the basket system.
"We will then sit and draw a programme which will include the definition of our strategies, objectives and vision as Bulawayo. We are focusing as an organisation which is going to reach out and bring into the party people who have traditionally stood and folded their arms," said Ndlovu.
"This will be accomplished within the framework of Zim Asset. There are a few individuals who need to be assisted in understanding the agenda of the party.
"Some of them may be vocal but do not represent the core of the party. If you have a grievance or suggestion, you have to be coherent and not self-contradictory but there are some that we call fringe elements," Ndlovu said.
He said whenever there are elections, there was a lot of noise, but the party was headed in the positive direction.
In Matabeleland South, Andrew Langa was retained as chairperson after beating Lloyd Siyoka and Phumuza Ndlovu.
"I want to invite those that were contesting to accept this democratic process and we work towards strengthening the party from cells to the province," Langa said.
"We need to marry the party to development and also work closely with our seniors in the province namely comrades Simon Khaya Moyo and Kembo Mohadi and benefit from their leadership and guidance."