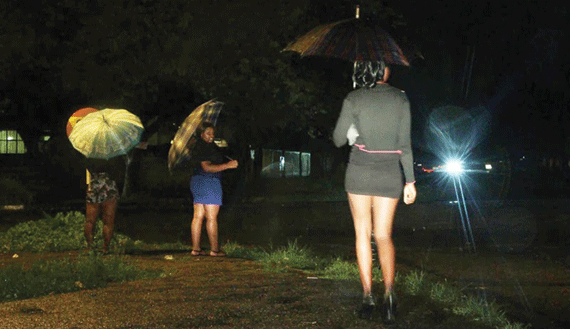 A NUMBER of guest houses and lodges in Bulawayo face closure as the Zimbabwe Tourism Authority (ZTA) cracks the whip on unregistered entities across the country to bring sanity to the tourism sector. RICHARD MUPONDE SENIOR REPORTER
Concerns were raised by tourism players in Victoria Falls about the mushrooming of unregistered lodges and guest houses countrywide during a three-day Hospitality Association of Zimbabwe (HAZ) conference.
HAZ expressed concerns that most of these lodges and guest houses were being used as brothels where people were engaging in the organised criminal activity of prostitution.
Some crafty owners of lodges, hotels and dilapidated town houses in Bulawayo have sought to reap handsome dividends from the ever-blossoming prostitution business — a move that has seen the city fast losing its lustre of being one of the cleanest and most attractive cities on the continent.
Most dilapidated hotels, flats and town houses have been converted into brothels with women being used for prostitution in this criminal enterprise to lure clients.
Some town houses located in the central business district (CBD) converted into illegal lodges and guest houses charge between $5 and $10 an hour for services normally utilised by prostitutes for mainly sexual activities.
The old and rundown inns charge $35 for overnight accommodation.
Responding to the HAZ concerns, ZTA acting chief executive officer Givemore Chidzidzi said they were going to descend hard on illegal operators and close the places in a move aimed at having a brothel-free country.
Chidzidzi said the crackdown would also help to curb prostitution in the country's urban centres.
"The situation is seriously chaotic, but we are not going to rest until we bring them to book,"said Chidzidzi.
"We are going to close them to bring sanity in the tourism sector. I have been issuing closure letters to such premises and many have been closed in Gweru, Mutare and other towns.
"These people are very cunning. Some have the audacity of taking ZTA to court to stop the closures, but we are not intimidated. As long as they operate outside the laws, there is nothing we can do, but shut them down," he said.
He lamented the lack of a harmonised legislation between ZTA and local councils on the issuing of operating licences to lodges, guest houses and hotels.
"We are trying to harmonise the laws with local government so that one does not authorise what the other is not interested in.
"There is a lot happening in councils that is not right.
"These people also circumvent provisions of the council by-laws on land use. If in your neighbourhood there is anyone operating without proper documentation, please advise us and we will crack the whip."
In March, Bulawayo city councillors called for an investigation into the activities of owners of dilapidated and disused buildings in the CBD amid reports that some of the structures had been turned into fronts for prostitution and other shady and criminal activities.