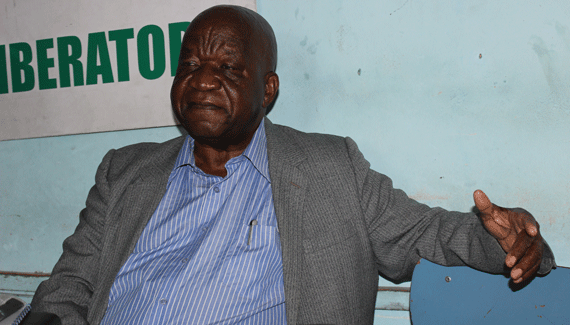 ZANU PF bigwigs are divided over the support of candidates participating in the provincial elections in Matabeleland on Saturday.
NDUDUZO TSHUMA STAFF REPORTER
In Matabeleland North, Zanu PF politburo member Obert Mpofu's influence will come to the test when his ally and incumbent provincial chairperson Richard Moyo battles with his deputy Reeds Dube.
Dube reportedly enjoys the support of the Speaker of the National Assembly and politburo member Jacob Mudenda and former provincial governor Thokozile Mathuthu, among other senior party leaders.
Dube, a losing Zanu PF candidate in the Hwange Central parliamentary elections on July 31, yesterday told Southern Eye that his campaign was going well but was worried by the "hidden hand" supporting Moyo.
"So far so good! The campaign is going well and we are just waiting for Saturday," said Dube.
"What I have observed, however, is that the person I am competing against seems to have a senior person backing him. He has two cars in each district campaigning for him yet we both know that he does not have so many vehicles.
"One needs lots of money to run those vehicles buying diesel and food for the people. My campaign on the other hand is stringent. I rely on personal friends. I thought my competitor and I are the same people and as an internal poll, the seniors should not be taking sides but prioritising unity," Dube said in apparent reference to Mpofu.
Dube dismissed the claim he enjoyed the backing of Mudenda and Mathuthu.
"I do not know where people are getting that, but I have never received a cent from Mathuthu or Mudenda or any politburo member. Maybe they help by talking to people when I am not there, but I was assisted financially by friends with businesses," Dube said.
Moyo fired back and dismissed Dube as a cry baby.
"I have friends and I have the cars," said Moyo. "My friends assist me and that is how things are done, and he should know that.
"The problem is that Dube loves crying. He was crying in a similar fashion before the July 31 elections for the National Assembly that is why he lost. I have total confidence that I will win the elections as long as Zanu PF members are voting in the polls.
"My campaign has received an overwhelming response and I am confident of a landslide victory. If you remember, Dube was part of my campaign team for the same position last year and he knows the results of that election. He is intimidated by the numbers that I got that is why he is crying," Moyo said.
Last year, Moyo garnered 6 689 votes to Patrick Utete's 674.
In Bulawayo, incumbent chairperson Callistus Ndlovu will battle it out with his deputy Killian Sibanda and Douglas Ndlovu.
Douglas Ndlovu was quoted in the State media accusing the incumbent of using his position to prevent them from viewing the voters' roll and was allegedly using party resources to oil his campaign.
Efforts to get a comment from Callistus Ndlovu were fruitless yesterday as his mobile phone was not reachable.
Last week, war veterans' leader Jabulani Sibanda accused Callistus Ndlovu of associating with divisive elements.
He allegedly enjoys the support of most politburo members from Bulawayo province.
Related Topics