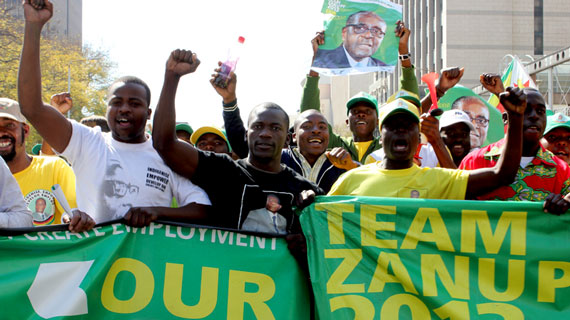 THE Deputy Sheriff is today expected to eject Zanu PF activists who invaded a game conservancy in Beitbridge looting meat and destroying property last month after police initially declined to escort the court official.
NDUDUZO TSHUMA STAFF REPORTER
Ian Ferguson, managing director of Denlynain Private Limited and Trans-Limpompo Carriers which runs the conservancy, wrote in a letter to Zimbabwe-born Australian rugby player David Pocock that the invaders would be removed today.
He said the conservancy had been targeted as the owners had been perceived as MDC supporters.
"As reported in one of my previous updates, the Deputy Sherriff in Beitbridge was refused a police escort to evict and was going to do a return of service to that effect, and wasn't going to carry out the ejectment order," Ferguson wrote to Pocock.
"I contacted the Deputy Sherriff in Bulawayo to ask her to do it and she referred me to the Sherriff of the High Court in Harare whose attitude was that with or without a police escort, the Deputy Sheriff in Beitbridge was duty-bound to carry out the ejectments."
Ferguson said the Deputy Sheriff was told that he would be suspended if he didn't carry out the ejectment. The district police officer was told that if he didn't provide an escort, the Sherriff would take the matter up with Police General Headquarters in Harare.
"The net result is the Deputy Sheriff with a police escort will be ejecting the invaders on Thursday November 14 (today) and we won't be surprised if the war vets have been informed and that we don't find anyone on the property," Ferguson said.
He said he was worried that some property could have been stolen by the invaders, adding that he would go after them with civil claims, including the costs over the last 10 years.
Ferguson had earlier written to a Mr Matenga at the Sheriff of the High Court in Harare over the failure by the Beithbridge Deputy Sheriff to enforce the court order by removing the invaders.
In the letter, Ferguson said his lawyer had on October 29 approached the Beitbridge police to eject the invaders, but they said they did not have transport as their vehicle was undergoing repairs.
He said the police declined the transport offered to them.
The invaders reportedly looted three tonnes of meat before assaulting employees at the conservancy.
The alleged invaders also reportedly harassed four Polish hunters who had gone to the conservancy for trophy hunting.