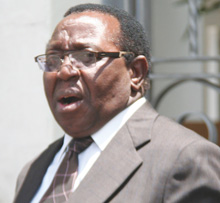 Simon Khaya Moyo applauded inclusion of women and paralympics in sport.
Fortune Mbele SPORTS REPORTER
Sport for people living with disabilities has been received in the country and throughout the world.
Zimbabwe seems to be noticing that aspect of the sport although it is yet to be seen how much the new Sport, Arts and Culture ministry with its own budget and chunk from the government will inject to support that area.
Senior minister of State in the President's Office Simon Khaya Moyo spoke highly of the inclusion of women and paralympics in the Sadc region as a worthy development.
"The focus on women in sport and inclusion of sport for the disabled is a commendable development.
"These sectors were ignored to a large extent due to our conservative and at times non-responsive traditional perspectives on women and those living with disability.
"You have embraced them, creating an environment of inclusivity and equal participation by all in society. This should not just be a measure to fulfill a quota but should spread its influence to the lower levels where it touches the performance and the involvement of the girl child and the disabled in sport. Let us push for such programmes until it becomes the norm more than the exception, to have women and the disabled in sport leadership," Khaya Moyo said.
Khaya Moyo was welcoming 10 Sadc sports ministers to Bulawayo on Friday morning where they held a meeting ahead of the Sports Development Region V Under-20 Youth Games to be hosted by Bulawayo in December next year.
He also commended the emphasis on the youth in sport and the current trends in sport in Africa.
"The current changes at the African Union level moving from the Supreme Council of Sport in Africa to the new Africa Union Sport Council speak to your united approach dealing with bilateral and multilateral issues.
"There are therefore some changes that we will need to embrace as we move to take sport forward. The 'architecture of sport' on the continent is ours to build and promote at all levels.
"We should be committed as a bloc to seeing its growth and encourage our nations' participation in its programmes and activities.
"The performance of this Region five should continue to be a beacon of hope for the sustenance of sport development and sport administration in the rest of Africa," Khaya Moyo said.
Zimbabwe takes over the chairmanship of Region V from Zambia by virtue of hosting next year's regional youth games.