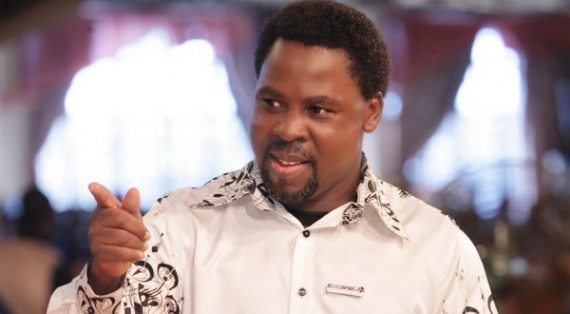 FORMER Prime Minister Morgan Tsvangirai's camp yesterday reacted with scorn at President Robert Mugabe's jibe at the MDC-T leader for visiting a Nigerian prophet.
NJABULO NCUBE DEPUTY EDITOR
Mugabe on Friday said Tsvangirai was making futile trips to London and Nigerian televangelist Temitope Balogun (TB) Joshua, to discredit Zanu PF's July 31 election victory.
"He is running to London and has been to TB Joshua seeking prayers," the veteran ruler told villagers during a visit to Umzingwane. "But you cannot pray for a person who is bent on wrong doing."
Mugabe also launched an astonishing attack on Tsvangirai saying his longtime rival was as "good as mad".
Tsvangirai's spokesperson Luke Tamborinyoka said the 89-year-old ruler's rants showed that he had become too old.
He said his boss had visited TB Joshua's Synagogue Church of All Nations (Scoan) because he was a God-fearing leader.
"It is part of our African culture to respect elders but we understand very much that old age comes with senility.
"Tsvangirai is a Christian and his going to church confirms he is a God-fearing leader," Tamborinyoka said.
"It is actually ironic that Mugabe is taking offence in Tsvangirai going to church when we saw him and his wife going to laughable extents in the run-up to elections.
"Mugabe is said to be a Catholic, but everyone saw them in Mapostori garb, attending a church service under a tree."
Tsvangirai was seen at a Scoan service last month and a video of TB Joshua laying his hands on him, resulting in a momentary loss of balance went viral on the Internet.
His critics speculated he had gone to seek prayers because of the morale-sapping loss to Zanu PF, which his party blamed on massive rigging.
Tamborinyoka said Tsvangirai would not be intimidated into endorsing Mugabe's re-election that would see him at the helm of Zimbabwe for at least 38 years.
"Tsvangirai has made it clear that he will not legitimise theft," he said.
"So if Mugabe expects Tsvangirai to endorse theft, that will not happen."
Tamborinyoka said long-suffering Zimbabweans were tired of Mugabe's insults and wanted him to deliver on his election promises, particularly job creation, addressing water and power shortages.
"Zimbabweans at this stage don't want name calling. They want ideas and programmes," he said.
"Mugabe claims to have won the July election and rather than the fixation with Tsvangirai, he must deliver on his election promises."
He said the villagers the Zanu PF leader was addressing needed food not insults directed at Tsvangirai.
"Hungry villagers in Matabeleland South don't care whether Tsvangirai is mad or not, but they are worried about hunger which is stalking people of the south," he said.
"Mugabe must deal with this hunger because he claims to have won the elections.
"The man promised heaven, he must now deliver and not continue with this childish fixation with Tsvangirai."
MDC-T says it has amassed evidence that demonstrates that Zanu PF did not win the elections fairly.