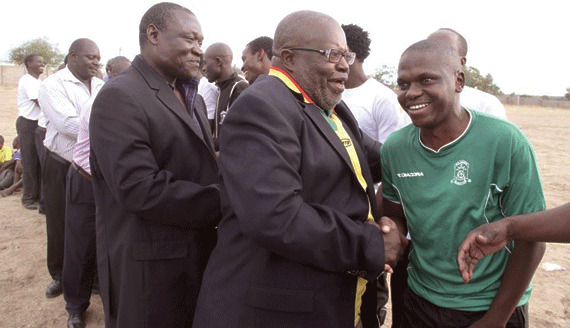 ZIFA Southern Region Division One side 2013 champions and Premier Soccer League (PSL) new kid on the block Bulawayo Chiefs have revealed that the new name for the Plumtree-based club will be announced on November 9.
Ronald Moyo Sports Reporter
Bulawayo Cheifs secretary Dumisani Sibanda confirmed the latest developments.
"We have decided to announce the new name for the club on November 9, same day we will be having awards winning ceremony as well as the celebrations for the great work that we have done," he said.
The proposed names so far are Plumtree Chiefs, Amakhosi, Chiefs while others suggest that the name should remain unchanged.
Plumtree town secretary David Lute is one of the high profile people who have suggested that the club should name of the border town's name.
Sibanda said the club was yet to consult other top officials from the town.
"We will also consult other local authorities like our MP Obedingwa Mguni as we want their input in the club," he said.
Chiefs was formed last year and they have made history, getting promotion to the PSL after acquiring FC Windermere's franchise in Division One this year.
After a good start to the season under Thulani Sibanda, Chiefs almost lost track when they replaced the youthful gaffer with his technical adviser Rahman Gumbo allowing Black Boots to close the gap, which resulted in Sibanda's reappointment.
Chiefs completed the season on 66 points from 30 games, leading Black Boots by seven points to earn a ticket to top-flight action.