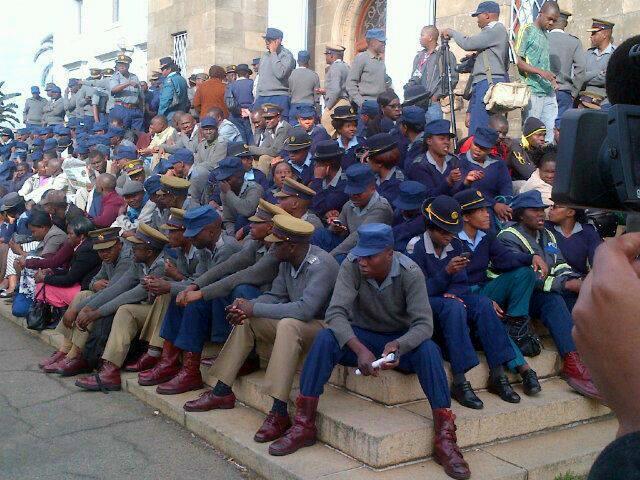 THE MATABELELAND South business community has asked Zanu PF politburo secretary for business development and liaison Sithembiso Nyoni to rein in police they accuse of having a penchant of demanding bribes, particularly at the Beitbridge border post. Albert Ncube Own Correspondent
The business community, drawn from all corners of Matabeleland South, met Nyoni on Friday where they bitterly complained about the conduct of police in the province.
There was an outcry during the party's consultative meeting with most business people claiming their operations were being frustrated by corruption at the border post and incessant roadblocks on the country's major roads manned by police officers who demand bribes.
Gwanda Ward Seven councillor Thulani Moyo said most people were buying goods in South Africa for resale in Zimbabwe, but the number of roadblocks along the highways was eroding their profits as they are forced to pay bribes along the way.
"One wonders why we have seven roadblocks along the Beitbridge-Gwanda highway. We are made to offload our goods several times where police officers demand bribes and at the end of the day our profits get eroded," Moyo a local businessman, said.
Beitbridge businessman Maxwell Ngwenya said a police roadblock that is usually mounted about 50m outside the border post should be removed immediately as it is an embarrassment.
"The first thing you come across when you enter into Zimbabwe is a roadblock, and I think it's very embarrassing to us as a country. We cannot be a country of thieves," Ngwenya said.
Hotelier Misheck Ndlovu said the biggest sanctions affecting Zimbabwe were corruption in the police force as most of the officers were now competing among themselves to buy cars.
"The belief amongst our police officers is that if you do not own a car then you are stupid, the biggest sanctions that are there is corruption amongst the police officers," he said.
"Most of the vehicles that pirate along our highways are owned by police officers and most of these vehicles do not have proper documentation," Ndlovu said.
Police in Matabeleland South were not available to respond to allegations raised by the business people in front of Nyoni.
But Nyoni, who is also Small and Medium Enterprises and Cooperative Development minister charged that corrupt police officers who are in the habit of demanding bribes from motorists would be fired, saying the new Zanu PF-led government was stepping up its zero tolerance campaign against corruption.
"Those police officers in the habit of demanding bribes should know that their days are numbered because President Robert Mugabe has declared zero tolerance on corruption and if you come across such corrupt police officers you should take down their force numbers and we will deal with them," she said.