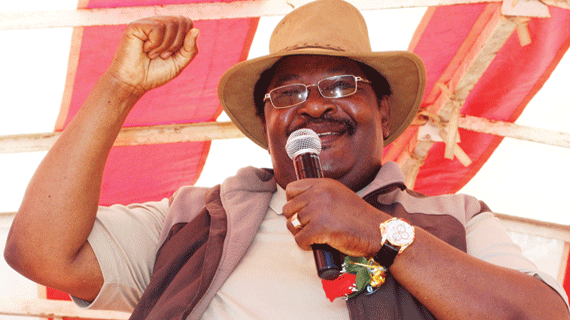 THE National Railways of Zimbabwe (NRZ) has been a pale shadow of its former self for more than a decade.
GAMMA MUDARIKIRI OWN CORRESPONDENT
Workers have gone for several months without salaries and at one time the employees' wives had to take to the streets protesting over late payments of wages as the railways bled from dilatory supervision, corruption and poor management coupled with a severe liquid crisis.
At one time goods and passenger trains failed to arrive on time at their intended destinations or depart on time from stations.
Management was quick to blame targeted sanctions slapped on President Robert Mugabe and his inner circle by the West.
However, it is not disputable that NRZ is in a sorry state and can be mistaken for a "huge junkyard".
The once-thriving massive railway station is now surrounded by rusty, smelly and run-down coaches and wagons scattered all over the place — a confirmation that the parastatal is in the doldrums.
The State railway firm currently has about 65 locomotives, 3 271 wagons, nine cabooses and 158 coaches against the optimum average requirement of 83 locomotives, 4 262 wagons, 17 cabooses and 145 coaches to run the company viably.
The parastatal is battling to pay employees with salary arrears of over nine months estimated at $46 million.
But following the appointment of Obert Mpofu as Transport and Infrastructure Development minister, a new chapter is beckoning for the State-owned rail transporter.
Within a month of his deployment as the minister responsible for the railways, workers have been paid their outstanding salaries and allowances, retrenchments have been stopped and plans are reportedly afoot to revamp the entire railway network.
Mpofu last week announced during a tour of the NRZ in Bulawayo that several foreign firms were eager to help rehabilitate the NRZ.
Despite the plethora of challenges besetting the parastatal, Mpofu vowed to tackle the problems head-on, adding that results would be seen come next year.
He revealed the government was finalising negotiations with the Development Bank of South Africa over a loan facility to finance the recapitalisation of NRZ.
He said a deposit had already been made to a Chinese firm for equipment as the government stepped up efforts to revive the entity.
But questions abound whether Mpofu would be able to tackle the mammoth task ahead of him to turn around NRZ to its former glory.
Critics say the promises are a pipe-dream, pointing out that the country was still largely under targeted sanctions and the new administration had no financial wherewithal to bankroll some of its election promises.
MDC-T shadow Transport and Infrastructure Development minister Elias Mudzuri said the pledge by the Zanu PF government to revive NRZ was an empty promise.
"A promise is not enough, he (Mpofu) should have given benchmarks on what exactly he will do in reviving NRZ," he said.
"In the absence of a study and a document detailing exactly what he will do and giving timeliness, there isn't much that will be achieved."
According to Mudzuri, the MDC-T strategic plan to turn around the entity if the party got into power, would include adopting a new business model which would accommodate private-public partnerships.
However, the former Energy minister could not been drawn into shedding more light on his party's plans to turn around the ailing parastatal although he said there was need for NRZ to adopt modern ways of a railway system.
NRZ has an outdated railway system which is poorly maintained due to financial constraints as the cash-strapped government continues to battle to fund capital projects with 70% of the budget swallowed by civil servants' salaries.
The country is struggling to access funding from multilateral institution like the World Bank, Africa Development Bank among others, largely due to a huge debt overhang estimated at close to $11 billion.
As a result the financing of the revival of State enterprises remains a mammoth task for the government.
Economic analyst John Robertson said privatisation of NRZ was the only viable option if the government was to raise finances to fund the revival of the entity.
"The first thing which the government has to do in reviving NRZ is look for funding and in this case privatisation is the most viable option," he said.
"It worked on Dairibord Zimbabwe and Cottco and today they are one of the most profitable companies."
According to Robertson, NRZ is unattractive to lenders largely due to its weak balance sheet and huge debt, leaving privatisation as the most appropriate way to save the entity.
The renowned economic analyst said it would take an estimated two years for NRZ to realise any notable recovery if the government was to adopt privatisation.
However, a local business lobby group, Bulawayo Business Arise (BBA) said Mpofu's commitment to the revival of NRZ was a welcome move.
BBA administrator George Mukamba said NRZ's decline was partly due to the collapse of Ziscosteel which used to be the biggest client of the railway company.
"The revival of NRZ is a welcome move for industry and this will reduce distribution costs," he said.
The decline in industry capacity has also seen a reduction in business volumes for the State railway company.
Industry — especially in Bulawayo, which used to be the NRZ's main clients — is now on its knees, with last year alone recording close to 100 company closures.
At its peak in 1998, NRZ used to ferry goods in excess of 18 million tonnes which, however, went down to 3,7 million tonnes in 2011.
This year the battling parastatal projects that it would ferry six million tonnes of cargo.
 Twitter feedback @mudarikirig