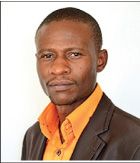 SUCCESS life strives to evoke the best out of you so as to live a fruitful and a fulfilling life.
The other means of doing that is to employ the minds of millionaires, business tycoons, entrepreneurs, self-development authors and leadership coaches.
Today we (JN) feature Stem Mahlatini (SM) a professional speaker, soft skills trainer, TV and radio host.
To her name, are eight books and has core-authored seven. She leads a US-based organisation, global counseling and coaching services. Here are the excerpts of what she said:
JN: You have been in business for some time now. What's your secret to success if one was to run a viable entity internationally?
SM: My secret has been running a business I am passionate about and love with all my heart. When I am counselling, coaching, speaking or training, I serve from the heart.
I celebrate paid and non-paid events and services alike, because I enjoy sharing information that will transform someone's life. The key is providing a service one is passionate about, a service that identifies you and helps change lives one way or the other.
Another key is to denounce the spirit of fear and negative thinking; success is imminent when one can manage these two.
JN: Take us step by step here; how does a person move from just earning a wage to making a profit?
SM: I will give you a brief guide as I will be expanding during our event on November 2, (name of event, venue and time plus $2 snack fee). Shifting from wages to profit is not an easy thing, but possible. It begins with a dream to do better, to earn more, to afford more and live a debt, free life. I use the term DBA (Dream It, Believe It, Achieve It).
JN: Some success scholars and millionaires like Bob Proctor, Anthony Robbins, would frankly tell you that no one can become a millionaire on a salary? What's your take on that?
SM: I fortunately agree if it is by your salary alone, because a salary is a wage that is controlled by someone else, therefore there will always be a cap as to how much you can earn. One can, however, be a millionaire if they utilise multiple streams of income as supplements to their income then yes, one can become a millionaire.
JN: The talk on multiple streams on income or MSI, seem to be gaining impetus, would you expound on it?
SM: I like the term "If you build it they will come". Today the ones that are making it are building multiple businesses or partnering with others in different ventures. I will give you an example as an author, my multiple streams MSI include partnering with other authors to conduct speaking engagements, selling each other's books in bundles or co-authoring books with other authors.
I am also still working for myself as a mental health counsellor, which is another stream of income for me.
Not being content in one business is important in today's business, venturing in new business options is a sure way of succeeding in this MSI era.