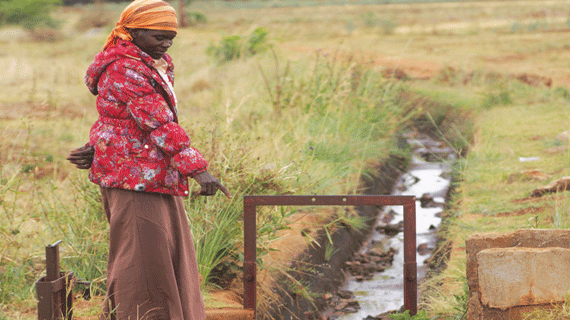 THERE is virtually nothing to show at Silalatshani Irrigation Scheme in Insiza as weeds cover what used to be a thriving crop cultivation field a few years ago. SILAS NKALA STAFF REPORTER
Villagers did not plant anything this year because the irrigation scheme had no water after the Zimbabwe National Water Authority (Zinwa) cut off supplies for non-payment of bills dating back to 2008.
The irrigation scheme spans about 360 hectares and accommodates 853 farmers in its eight sections namely Vukuzenzele, Nonoka, Mbokodo North and South, Landela North and South and Phelandaba North and South.
It is in a sorry state compared to what it used to be like before 2008.
Back then, it was a source of income and subsistence for many families, especially those staying in the Silalabuhwa area.
The farmers said current failure to produce was as a result of Zinwa tendency to cut off water supplies each time their crops were about to reach maturity stage, leading to serious crop failure.
"Zinwa is sabotaging us," Ntombiyolwandle Moyo of Zenzele village said.
"They say we owe a debt of $18 000, which is from the Zimbabwe dollar era.
"The truth is that we paid all the money during that time, but they told us the money did not work saying it was phased out during the bearer cheque period."
Moyo said Zinwa had informed them that it would only supply water to them from Silalatshani Dam once a week.
"The amount they are demanding is too much. We have engaged our MP (Malaki Nkomo) to take this issue up because Zinwa is taking us for a ride," Moyo said.
Dlikisa Thomas Sibanda said crop failure at the irrigation scheme started when Zinwa began cutting water supplies when their crops were maturing.
"I have been a farmer at this irrigation scheme since 1984 producing food that was used by many people here and we used to even sell to the Grain Marketing Board," he said.
"We last produced a good harvest during the government's Maguta programme where farmers were provided with inputs and tractors to till the land."
Sibanda said because of this random cutting of water supplies, they could not produce anything.
"We feel like abandoning this scheme because Zinwa is frustrating us. How can someone cut water supplies for our crops and expect us to pay their debt?
"Where will we get that money from if our crops continue to fail because of Zinwa?
"If we are farming and someone cuts water supplies knowing that the money comes from the crops, what does that show? If we can't produce crops, we can't settle the debt," Sibanda said.
Another farmer at the irrigation scheme Lydia Khumalo, said the sad part was that even if it rains and the floodgates are opened and water flows to the irrigation, Zinwa workers demand money.
She said even when Zinwa allows for water to flow into the irrigation, there are some sections which do not get water because of defunct infrastructure.
Farmers said Zinwa is currently charging each farmer $25 per month for water usage even though they get supplies once a week.
"We have nothing in the irrigation. I did not even get a single bucket as the wheat scorched up due to water cuts," Khumalo said.
"Where will I get the money that Zinwa demands and what are they charging me for since we are not getting enough water?
"The canal to the irrigation is the only one and so it's unfair for Zinwa to cut off water saying some people have not paid. It affects all of us."
Chief Sibasa, who also farms at the irrigation scheme, expressed concerns over Zinwa's control of the water saying it was unfair for it to demand money from poor villagers monthly when they did not produce crops.
"They are demanding $25 per month, but we are saying where will it come from since we do not produce crops from the irrigation," Sibasa said.
"Since they are saying we owe them a debt back-dated to the Zimbabwe dollar era, we are just waiting for the government since we heard that such debts are being slashed and we hope they will do the same for us here," he said.
The farmers also asked the government to come to their rescue saying they were starving while there was a dysfunctional irrigation scheme in the area because of stringent Zinwa conditions.
Million Moyo said the irrigation needs a complete makeover because even the fence that was erected in 1969 was now rusty and their little crops were at the mercy of livestock.
Moyo also lamented the shortage of inputs and implements saying they use donkey-drawn ploughs to till the land, but because of the drought, their donkeys were dying or were too weak to assist.
Moyo said if they got inputs and adequate water supplies, they would be able to produce more crops and get money to pay off the Zinwa debt.
Silalatshani Dam supplies water to JZ Moyo High School, Colleen Bawn and Ekusileni Mission.
A Zinwa worker at the dam said water is now below expected levels to adequately supply all beneficiaries.
Zinwa's Umzingwane catchment manager Tony Rosen was said to be away and would only return to work next month.
Twitter feedback @silasnkala