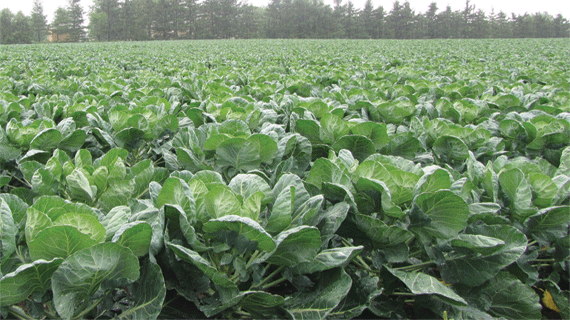 A GLUT of cabbages has hit the market in Matabeleland and its hinterlands, forcing prices of the crop to drastically drop to as little as 25 cents or R2 from $1.
GAMMA MUDARIKIRI OWN CORRESPONDENT
With truckloads of cabbages delivered every day in the city markets from Umguza, Inyathi, Esigodini, and nearby farms flooding the market, the majority of farmers, particularly so-called new farmers, have been left counting huge losses.
Information obtained by Southern Eye Business indicated the excess supply had forced some farmers to off-load their crops at give-away prices; a development they said was unsustainable considering the high cost of production. Others have resorted to feeding their livestock with the crop.
Farmers said they had planted the crop anticipating a huge demand and a better prices this year, but were now left counting the losses as there is an oversupply which has forced prices to plunge.
Umguza Irrigation Farmers' Association chairperson Falakhe Dube said farmers in his area had planted between 25 000 and 60 000 heads of cabbage this year, but most of it failed to sell.
Dube said farmers were battling to recover the expenses incurred, hence the stampede to offload the crop to hawkers who in turn sell the cabbage at a $1 for four.
"This year there are too many heads of cabbage in the market and as such the prices are very low, " he said.
"We are now feeding our livestock with some of the cabbages as we fail to sell them."
However, another farmer in Umguza, Clement Ndlovu, said he was expecting prices to pick up towards the festive season as the demand for cabbages is anticipated to grow during the period.
Ndlovu said it was normal for cabbages to flood the market during this period considering the fact it will be harvest time for most of the farmers.
"It is normal for cabbages to flood the market at this time of the year because almost every farmer is harvesting the crop," Ndlovu said.
"But prices by end of November will be better as we move towards the festive season."
Most farmers bemoaned the erratic power suppliers, shortage of water, poor infrastructure and shortage of working capital saying it will contribute to huge losses this year.
But experts say the oversupply of cabbages this year was because farmers made uninformed decisions in growing the crop as they were anticipating better prices.
Zimbabwe Commercial Farmers' Union past president Donald Khumalo said a majority of farmers in this year's winter season planted cabbages instead of wheat as they were expecting high returns from the crop.
A majority of the farmers are said to be shunning wheat as it is regarded to be labour intensive with low returns.
"Farmers can only break even if they were selling cabbages at least at $0,50 per head, but they are only selling at less than $0,25 — it is a huge loss," Khumalo said.
"There is too much supply of the crop in the market and going forward farmers need to put heads together to plan the cropping as per demand in the market."
He said due to fear of incurring additional water and electricity expenses, farmers also stopped watering the cabbages and most of it has already been destroyed by excessive heat.
With farmers facing a plethora of challenges including failure to access credit lines, high costs of inputs, climate change issues and frequent losses, they are now pinning their hopes on the government when it presents the budget for 2014, where they anticipate funding to be unveiled for the sector.  Twitter feedback @mudarikirig