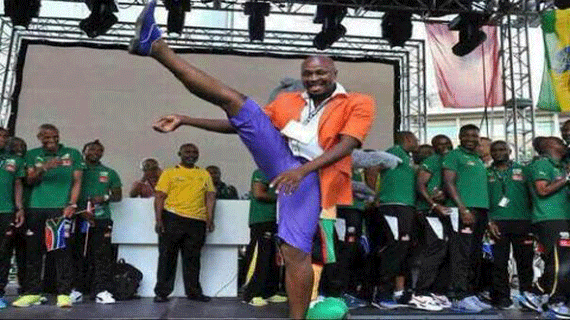 Beitbridge revellers are in for a treat this weekend as South Africa's award winning pair, Kalawa Jazmee's finest Dr Malinga and Professor will rock the border town for the first time ever when they perform at the official opening of Pagomba Café later this month.
Albert Ncube Own Correspondent
Iyasa, Girls La Musica and Exotic Rhumba dancers will back the South African pair in a show that promises to produce fireworks tomorrow night.
Pagomba Café manager Frank Tichareva confirmed the South African pair will be arriving tomorrow afternoon by road via the Beitbridge border post.
Zimbabwe's king of sungura, Alick Macheso will also perform at the same venue the following day.
"They will be coming to Beitbridge for the first time and fans should not miss this show as a number of activities have been lined up for the event," Tichareva said.
"Macheso will wrap things up the following day."
Famed for his great performances and rare dance antics, Malinga's awesome voice is featured in DJ Mahoota vs Vatkoek's hit Via Orlando and is set to leave fans asking for more alongside Professor of Imoto etshontsh' imali fame.
Tichareva said Pagomba Café, formerly Terry's Hall ,is now under new management and has become a popular braai spot and will thrive to host high profile entertainers from Zimbabwe and abroad.