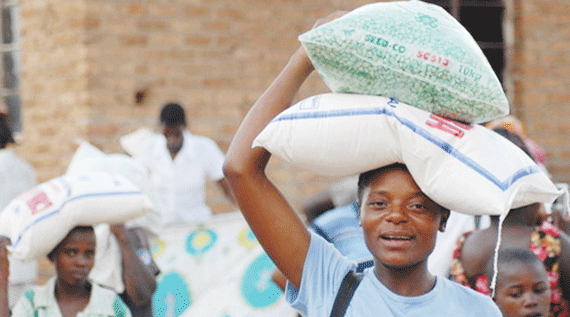 SOME Zanu PF MPs in Matabeleland South are politicising President Robert Mugabe's presidential input scheme by shutting out opposition supporters.
PERPETUAL PHIRI OWN CORRESPONDENT
Concerns were raised at a provincial drought relief meeting yesterday in Matobo district that Zanu PF MPs were "punishing" MDC supporters by politicising the distribution of inputs.
However, Matabeleland South provincial administrator Midard Khumalo warned against the politicisation of distribution of inputs saying selection of beneficiaries has nothing to do with politics.
"The inputs are not for political leaders, but for ordinary farmers to ensure food production, so the distribution process must not be selective but open and fair," he said.
Farmers were urged to take advantage of the early rains despite Zanu PF MPs delaying the distribution of the inputs as they want to first launch the programme before handing them over to beneficiaries.
Khumalo also said the political launches disrupted the distribution of inputs and urged responsible authorities to ensure that beneficiaries received their share for them to prepare for the planting season.
"We are aware of the slow pace of deliveries despite some areas already receiving rains. Therefore, we need to work on that and speed up the process and hope by next week more inputs would be sent to people," he said.
Provincial agronomist lnnocent Nyathi indicated that Beitbrige was the first to receive inputs, but they had not been distributed to farmers.
Some participants even proposed that the distribution process be done without the launches as waiting would delay farmers from planting.
But Zanu PF deputy provincial spokesperson Jabulani Phetshu said the reports were not true, adding that the MDC formations were still struggling to respond to his party's shock July 31 victory.
"We can't separate people who voted Zanu PF and those who did not because we don't demand party cards in distributing the inputs," he said.
"Do they come wearing their party regalia? Traditional leaders, councillors and extension officers compile the registers.
"Even I a senior provincial member am listed in the register compiled by the listed people and the district administrator.
"They (MDC formations) always want to make unfounded claims. We are an advanced party and they are just overwhelmed by our victory that they think everyone has suddenly become Zanu PF."
In the run-up to the elections there were also accusations that Zanu PF officials excluded opposition supporters during the distribution of food donated by Mugabe that included rice.