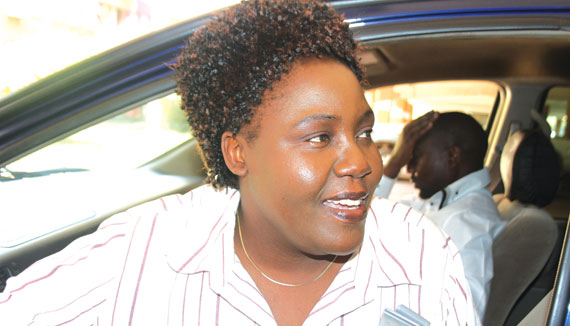 SHE lost her left leg in a car accident and now uses a pair of crutches to maintain balance while doing her household and other chores.
VENERANDA LANGA STAFF REPORTER
However, disability has not discouraged her from achieving what most Zimbabweans would dream of — to become a teacher and later an MP.
Born 42 years ago at Musume Mission Hospital in Mberengwa, Annah Shiri — now representing people with disabilities — was able-bodied and never thought she would one day be called a disabled person until fate struck in 1993 when she was knocked down by a car in Gweru.
"I was hit by a car while standing at a bus stop in Mambo, Gweru, with more than 15 other people," she said.
"It was drizzling and the driver of the vehicle failed to negotiate a curve and hit me.
"I was pulled on the road several metres before the car eventually stopped and I sustained multiple fractures — the worst being on the left leg."
Shiri said she was lucky to survive the accident.
As her almost lifeless body lay on the road, an ambulance passed by and she was quickly rushed to Gweru General Hospital.
"Actually, the following morning Gweru Times carried a story that I had died on the spot, but I thank God I survived. I spent months in hospital," she remembers.
"The injuries on my left leg failed to heal and there was pus. The doctors suggested that it be amputated.
"After amputation, I became a disabled person."
Shiri said disability was not easy to accept, but she was able to cope because of the counselling she received.
After completing high school, Shiri trained as a teacher at Mkoba Teachers' College.
"Before training as a teacher I did voluntary work at the National Council for the Disabled Persons in Zimbabwe in Gweru," she said.
"I enrolled at Mkoba Teachers' College in 1996, but the principal was at first reluctant to enrol me saying it would be difficult for me to cope due to disability.
"He said the library, and hostels were upstairs. I said I was determined and got the place."
Shiri said her story might not be unique, but she wanted all Zimbabweans to understand that disability could happen to anyone.
"I have a positive attitude about my disability and I used to let people joke about it," she said.
"I can cook very well and do everything that any woman can do. I'm married to Clifford Chiyengerere and we have two daughters.
"I can put on make-up and look good like any other woman and I can drive using only one leg.
"From 1999 until I was elected senator, I was a teacher at Shabanie Mine Primary School."
In August, Shiri was elected by 90 members of different organisations to represent the disabled in Senate together with Nyamayabo Mashavakure.
She declared: "The passion which I exhibited fighting for the rights of people living with disabilities got me the Senate seat.
"I'm not going to be there to warm the benches, but will fight it out during debates.
"My constituents, who are people living with disabilities, need to be involved in agriculture like everyone.
"I'm going to advocate for free agricultural inputs for them and drought relief programmes targeting the underprivileged."
She said she was saddened by the fact that most buildings in the country were inaccessible to people living with disabilities, thereby excluding them from many activities.
"I feel disturbed that my constituency has no access to information," Shiri said.
"They cannot read newspapers in Braille and most institutions like the police and health personnel are unable to communicate in sign language.
"I want to advocate for the inclusion of an interpreter at every district or provincial hospital or police station so that the deaf and dumb people can also be heard."
Shiri said sexual abuse inflicted on hearing and speech impaired people was rife because people took advantage of the fact that it would be difficult for them to prove violations against them.
She also lamented people living with disabilities had no access to aids like crutches and wheelchairs.
"One thing I would like to push before Parliament is that the 2014 budget should include an allocation to help disabled people acquire different aids like albino lotions, hearing aids, cane glasses for the blind, walking sticks and wheelchairs. I use crutches and they cost $45 a pair.
"If one does not have a vehicle — I am lucky to have one — those rubbers wear out fast.
"The rubbers on the crutches cost $6 a pair and how many people living with disabilities can afford that?"
During debate in Parliament on the 2014 budget, Shiri said priority areas for her constituency were access to health and education.