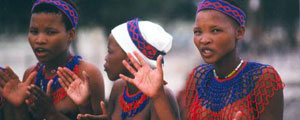 "ONE disturbing fact is that after 30 years of gaining independence we are still unknown to many," Davy Ndlovu, director of Creative Arts Development, an organisation championing the rights of the marginalised San community, wrote in apparent lamentation of the marginalisation of the community.
DIVINE DUBE Own Correspondent
In his book, Tsholotsho-Holoyahou-Tsorozho: A Journey into the San, Dlamini and Surrounding Communities, Ndlovu who has been working with the San for the past three years articulates socio-economic and cultural problems besetting the San, residing in Tsholotsho, Matabeleland North province.
Problems bedevilling the San community include language and cultural degradation and hunger.
"Our culture is seriously threatened, our language is facing extinction," Ndlovu wrote on behalf of the San.
"Language, we are told defines people's culture while culture on the other hand defines religion. Without a language we will be lost forever.
"We have remained underdeveloped because of lack of inclusion of cultural components in development. Culture is inseparable from anything else people do," the Tsholotsho writer added.
San language or Tshwao is regarded as one of the most endangered languages and facing extinction in Zimbabwe.
The San have in the past been accused of being backward, but in the book they argue that they are "uncivilised" because their culture has been eroded and their ancestral lands have been plundered.
"We have lost our ancestral land, our culture and language is threatened. Culture can drive development further. Creative industries offer significant potential for economic growth especially for small ethnic clans looking to establish niche markets, we are told, and when cultural products are valued in trade agreements, cultural diversity prospers," argued the group.
Ndlovu (48) said the book which also touches on the historical background of the San people in Zimbabwe, seemingly omitted in modern Zimbabwean history serve for the ancient Portuguese documents, was very much welcome in the San community and is set to be launched before year-end.
"They are very happy that at last something tangible has been written about them and more interestingly that they have been part of this research," he said.
Produced by Creative Arts Amateur Book Club, the 70-page journal, a political anthropology of the San, is likely to set a positive tone for the liberation of the marginalised San Community.