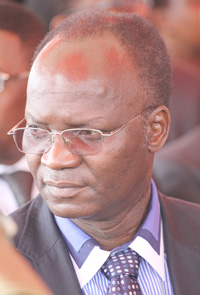 A FORMER broadcaster at the Zimbabwe Broadcasting Corporation (ZBC) has hailed the reappointment of Jonathan Moyo as Information, Media and Broadcasting Services minister saying he is the right man for the job.
Own Correspondent
Tapfuma Machakaire, who ironically was retrenched at ZBC during Moyo's first tenure as Information minister, told journalists at the Gwanda Press Club during the launch of a report on the state of journalism in Zimbabwe, that Moyo was unlikely to adopt his former stance on private media.
Machakaire, who spoke during the launch of a report by Wallace Chuma entitled The state of journalism ethics in Zimbabwe — a study he conducted on behalf of the Voluntary Media Council of Zimbabwe, added that Moyo's engagement with the private media was a step in the right direction.
"I think he is the correct person to manage our affairs. I don't see anyone who can deal with media issues well besides Professor Moyo. I don't foresee any disaster," said Machakaire, a former secretary-general of the Zimbabwe Union of Journalists.
Machakaire, who is now an independent broadcaster, urged journalists to be ethical and desist from peddling propaganda which he said had seen some reporters being extensions of political parties.
However, the report by Chuma — a former journalist — singles out Moyo as having contributed immensely to the decline of journalism standards in Zimbabwe.
"Energetic academic Professor Jonathan Moyo tightened the government's grip over both the ZBC and Zimpapers, while adopting both legal and extra-legal measures to discipline a critical and oppositional privately-owned Press," the report says.
Since his return to the ministry in August, Moyo has been engaging the private media urging an end to polarisation in the industry.
He has visited Alpha Media Holdings, publishers of Southern Eye, News Day, The Standard and the Zimbabwe Independent.
Moyo has also been to the Associated Newspapers of Zimbabwe, which publishes Daily News and to the Financial Gazette as part of the re-engagement.
Related Topics