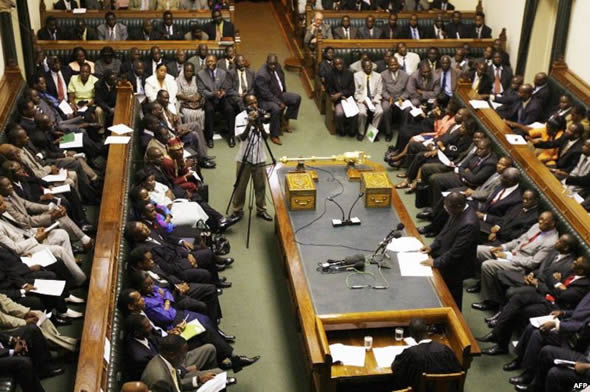 FORMER broadcaster James Maridadi's motion in the National Assembly last week calling for a probe into the electricity woes bedevilling Zimbabwe brought Zanu PF and MDC-T MPs together in a rare sign of common purpose.
Staff Reporter
On Thursday Zanu PF chief whip Jorum Gumbo praised the MDC-T Tafara MP's motion, saying it was not a secret that Zesa was facing serious problems.
"I want firstly to say to honourable Maridadi that I have critically looked at the motion, trying to analyse it, trying to find faults," he said.
"The only criticism I may have is to agree with honourable (Settlement) Chikwinya (Mbizo, MDC-T) that maybe there is no need to come up with a committee (to probe power crisis) because some very good work has been done before.
Mr Speaker, I also want to agree with honourable Maridadi on this very important motion.
"All that has been stated. It is very difficult even coming from the opposition to oppose what is right.
"We agree that Zesa has got problems and they are very evident. We see that daily."
Gumbo said Maridadi's motion was non-partisan and urged fellow MPs to learn from him saying such debate would make Parliament relevant.
"I want to conclude Mr speaker, by saying that this is a very good motion and it is not partisan," he said.
"So, I want to congratulate honourable Maridadi, a very brand new honourable member, for coming up with such a sober and brilliant motion which maybe, some old MPs have not been able to come up with."
Contributing to debate, Nketa MP Phelela Masuku (MDC-T) said Zesa must compensate residents who have lost their property due to fires that break out as a result of power surges after load-shedding.
"In my constituency again, a lot of people have lost a lot of houses due to fires caused by Zesa load shedding and Zesa is not compensating these people," the MP said.
"I therefore recommend that Zesa should compensate fully those that have lost their properties due to its load-shedding programme."
Last week MPs almost came to blows during debate on election violence and sanctions imposed on President Robert Mugabe's inner circle.