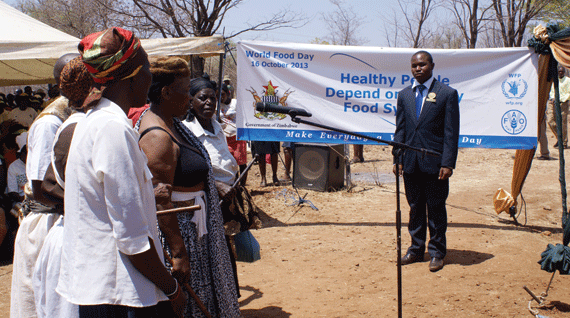 TSHONGOKWE Irrigation Scheme in Jotsholo is the beacon of irrigation farming in the Matabeleland region following the collapse of many schemes through non-availability of funds, damage to infrastructure or general neglect after years of economic stagnation.
NDUDUZO TSHUMA STAFF REPORTER
For its consistency, the Tshongokwe Irrigation Scheme won the right to host this year's World Food Day commemorations held on Wednesday after seeing off competition from other irrigation schemes countrywide.
According to Matabeleland North agronomist Davison Masendeke, this irrigation scheme was established in 1966 with 16 people as members, but now has 61.
"The scheme also provides employment creation as it hires labour and ensures improved food security. Its market includes Lupane, Bulawayo, Hwange and Victoria Falls," he said.
The scheme has won a number of accolades such as the third prize for the best run scheme in the country in 1993 before winning the big prize in 2000.
In 2001, Tshongokwe Irrigation Scheme was selected to host the World Food Day commemorations.
The scheme rotates crops like maize, carrots, onions and garlic, among others.
Matabeleland North provincial administrator Latiso Dlamini praised the irrigation scheme for its consistency.
"The crops we saw during the tour are a wide variety, some of which are not normally cultivated in this region. Matabeleland North is known predominantly for cattle rearing, but you cannot eat meat alone," she said.
"We are so elated to be commemorating the day in Tshongokwe, maybe as a result of your conduct and the way you do things. I hear you were selected after submissions from irrigation schemes across the country, but you managed to stand out — that is why we are here."
One of the challenges besetting the irrigation scheme located about 12km from the Jotsholo business centre is that local outlets do not sell inputs which can only be secured either in Hwange 150km away or Bulawayo which is 200km away.
"The poor state of the road network poses a challenge for customers to access the irrigation scheme, while the local banks charge exorbitant interest rates on loans borrowed by farmers," Masendeke said.
Despite the success story of Tshongokwe Irrigation Scheme, some villagers in the district are living on the brink of starvation as their crops were destroyed by the drought.
A villager, Simon Dube, said his family was finding it hard to make ends meet after their crops were destroyed due to moisture stress.
"The crops were severely affected by the drought so we harvested little," Dube said.
"I'm not employed. Fending for my family is difficult. My son based in South Africa sends us groceries once in a while and it is that food that we mostly survive on.
"The only consolation is that the grass is still available for the livestock to survive. The only threat is veld fires, but we have not recorded serious cases so far."
World food Programme (WFP) Zimbabwe country representative and director Sory Ouane said food insecurity continues to be an issue of concern in Zimbabwe.
"As we respond to emergency situations, WFP is committed to break the negative cycle of dependency in Zimbabwe. As such, we recently embarked on a shift towards resilience building," Ouane said.
"To date, in 22 rural districts, WFP through its Food for Assets programme is assisting rehabilitate and creating 300 productive assets such as irrigation schemes to ensure people are resilient to future food shocks.
"WFP will endeavour to connect smallholder farmers to markets through our local purchase initiative. This year alone, we plan to buy $1 million worth of food locally in surplus areas to be used in deficit areas in assistance programmes."
Ouane said his organisation was constantly trying to add new tools to its "toolkit" to ensure that their interventions "are not just appropriate and effective, but also bring about additional benefits like boosting the local economy".
Food and Agriculture Organisation (FAO) country representative in Zimbabwe, David Phiri, said his organisation in collaboration with the government and other partners made a sizeable contribution in the reduction of hunger and improved nutrition.
He said FAO had signed an agreement for $10 million to be channelled towards the livestock drought mitigation programme in Matabeleland until next year.
"The programme entailed distribution of subsidised survival feed, water point rehabilitation and vaccinations to reduce livestock mortality. The income generated from sale of livestock feed is being used to improve livestock infrastructure within these districts as well as drought mitigation coping strategies," Phiri said.
Phiri added that FAO was also involved in the capacity development for farmers and extension personnel as well as promotion of conservation agriculture as part of climate smart agriculture.