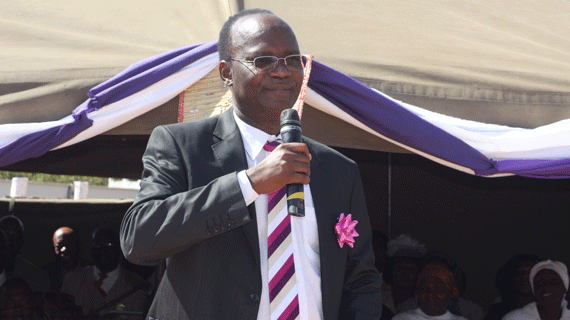 INFORMATION, Media and Broadcasting Services minister Jonathan Moyo Thursday said he could not attend the World Food Day commemoration in Jotsholo the previous day due to an extraordinary Zanu PF politburo meeting held in Harare.
NDUDUZO TSHUMA STAFF REPORTER
Moyo said his ministry had advised the Ministry of Agriculture that they would not be able to make it to the event held at Tshongokwe Irrigation Scheme.
The former Tsholotsho North MP was presenting Zanu PF's new economic blueprint at the politburo meeting.
"I am the one who presented it (economic blue print) so I could not have made it to the Lupane gathering along with Comrade (Cain) Mathema (Matabeleland North Provincial Affairs minister," Moyo said.
"I support what Food and Agriculture Organisation (FAO) and its partners are doing in the region and across the country that is why I accepted the invitation, but unfortunately there was a clash of diaries."
He said it was mischievous for people to say Zanu PF was against non-governmental organisations working in the country.
"When people are doing good work such as what FAO and its partners are doing in Matabeleland and other parts of the country, it is important to recognise the work they do," Moyo said.
He said he was surprised why permanent secretary in the Ministry of Agriculture Mechanisation and Irrigation Development Ringson Chitsiko had to read a hastily prepared speech.
Moyo said his ministry had given the Agriculture minister his speech so that it could be delivered at the function.
"I really apologise, it should have not happened that way and I hope there will be a next time when we will be able to attend," Moyo said.
The Zanu PF blueprint "Zimbabwe Agenda for Sustainable Socio-Economic Transformation" shows areas the party will prioritise until the next harmonised elections in 2018.
They include food security and nutrition, social services and poverty reduction, infrastructure and utilities and value addition and beneficiation.