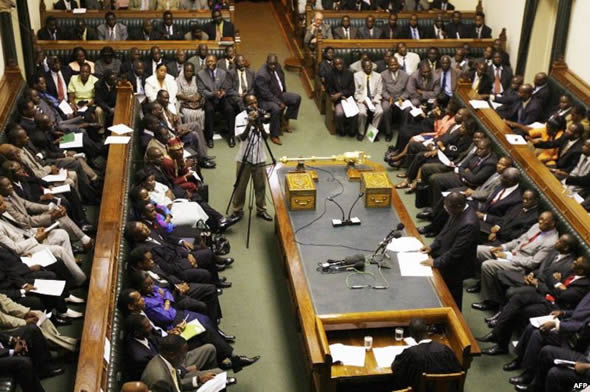 THE question of food security, endemic corruption and the chaotic land reform exercise sparked heated exchanges in Parliament yesterday with Zanu PF MPs blaming sanctions for the looming food shortages which have left 2,2 million people vulnerable.
STAFF REPORTER
But MDC-T MPs singled out the chaotic land reform exercise, violent land grabs and Zanu PF's failure to introduce a comprehensive land policy as the biggest single threats to the country's food security.
During the heated exchanges, speaker of the House of Assembly Jacob Mudenda had to interject and ordered Zhombe MP Daniel Mackenzie Ncube (Zanu PF) to withdraw his unparliamentary language when he referred to ex-Finance minister Tendai Biti as "this guy".
Mudenda said it was wrong to refer to Biti as a "guy" after Ncube had chipped in saying: "This guy, Biti, has not been funding agriculture."
Responding to a motion on food shortages which had been introduced by MDC-T Lobengula MP Samuel Sipepa Nkomo and seconded by Kuwadzana MP Lucia Matibenga (MDC-T), most Zanu PF MPs who contributed to the motion blamed the sanctions imposed on President Robert Mugabe and senior party officials by the West and Biti (MDC-T) of contributing to the crisis.
The Zanu PF MPs accused Biti of having failed to adequately fund the agricultural sector during his tenure as minister.
In response, Nkomo, however, blamed the food shortages on the unplanned land reform exercise and cited corruption in the distribution of agricultural inputs resulting in poor yields and starvation.
"This crisis is very much man-made and there was replacement of experienced farmers by inexperienced ones who sold equipment and the land was underutilised," Nkomo said.
"The government has been accused of partisan distribution of food and poor drought mitigation programmes and it is primitive that the government can deliberately starve its people for purposes of political expedience."
Nkomo and Matibenga urged the government to come up with a comprehensive land policy and carry out a land use audit, as well as introduce drought and hunger mitigation measures. The MDC-T MPs said a committee should be set up to probe the land issue.
Zanu PF chief whip and Mberengwa West MP Joram Gumbo said Nkomo and Matibenga's arguments emanated from sour grapes, accusing the two of failing to introduce those policies themselves during their tenure as ministers in the inclusive government.
"The (former) ministers who have spoken have been in the government for the past five years and were responsible for steering government policy, but they did not. In my view there is no need to set up a committee to investigate that issue," Gumbo said.
Mberengwa East MP Makhosini Hlongwane added: "It is sanctions that are impeding growth in our agriculture. There are no lines of credit in this country to fund agriculture."
Most top Zanu PF officials and companies associated with the party have been on travel and economic sanctions imposed against them by the Western countries over alleged human rights abuses.
However, most of them were recently delisted, while Mugabe and a few others remained on the list.
Meanwhile, MDC MP (proportional representation) Priscilla Misihairabwi-Mushonga castigated failure by Parliament to solve the issue of seating space shortages saying it showed lack of respect for the legislature.
She said it was imperative for the 2014 national budget to be crafted with all MPs present and seated in the House and recommended that a temporary venue for the legislature should be found while a long-term solution is sought.
"We need to do some introspection and do something about sitting space and even basic things like having wireless networks is not there in this Parliament, yet soon we will be attending pre-budget seminars," she said.
Misihairabwi-Mushonga said it was disturbing that three months after the new Constitution was passed, it had already been breached by failure to swear in provincial councils.
"We have already started violating the Constitution and Local Government minister Ignatius Chombo should immediately call those provincial council members so that they can be sworn in," she said.
She said it was high time Parliament sessions were televised so that mediocrity was exposed and people knew the calibre of MPs they voted for, adding women should be appointed to lead parastatals as men had failed.