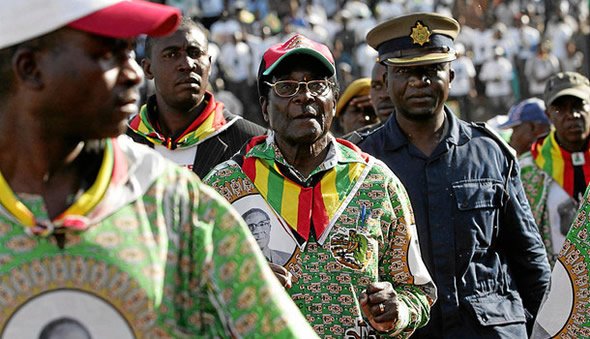 THE Unity Accord signed between President Robert Mugabe and the late veteran nationalist Joshua Nkomo in 1987 could have been shredded had the Zanu PF leader listened to advice he received after his humiliating defeat by MDC-T leader Morgan Tsvangirai in the March 2008 presidential elections, it has been revealed.
NDUDUZO TSHUMA STAFF REPORTER
A Herald columnist Nathaniel Manheru, widely believed to be Mugabe's spokesperson George Charamba, wrote in his Saturday instalment that had it not been for Zanu PF's "resilient leadership" the party would have been met with the fate of Edgar Tekere's ZUM (Zimbabwe Unity Movement), similar to other political parties that fell by the wayside.
"Mugabe knows what I am writing about. He experienced it in 2008, lived through it for the duration of the inclusive government," Manheru wrote.
"At one time he confided in all of us, confessing that the humiliation and impudence he had to put up with at the hands of the two MDCs was just intolerable.
"Little boys along whose nose bridges oozes the milk of youthfulness would not hesitate to dish impudence to this veteran politician, this liberation hero.
"In more permissive society, he would also tell you the anguish and loneliness of March 2008 when the negative result came."
Manheru revealed that after Mugabe's humiliating defeat, he got all sorts of advice even from those who had sold him out.
"More important, he would tell you the 'advice' that swirled around him post-defeat, threatening to sweep him off his feet," he said.
"He was told who the evil ones were, where the treachery was hatched and how it played out to yield the humiliating result he was landed with, pre-run-off.
"The temptation, nay the goad, to act impulsively, to act irrationally, was overwhelming.
"And that goading meets all leaders, any leader experiencing defeat. The Unity Accord could have been smashed to smithereens had Mugabe taken this cost-free advice. Zanu PF as known in history, as known now, could have been reduced to rubble," the columnist revealed.
"Maybe the ballast of constitutionalism could have failed.
"I collected a group of war veterans came to him with proposals to pick up arms yet again.
"This faction of the war veterans, it later emerged, was not only fawning; it was in fact working with the enemy, hoping to use its fawned loyalty to accelerate Zanu PF's demise."
Manheru said Mugabe, however, handled his defeat with "amazing leadership".
"He had cause to go on a witch hunt; he had reason to become vindictive, to want to settle scores, indeed he had the means to name criminals, bring and hand down punishment.
"He did not do any of these," Manheru said.
"Instead he rallied his forces, rousing them from the debility of defeat.
"There were many conspiracy theorists, many papers done in the name of election post mortem, but all of them disguising the urge for shortsighted vengeance sure to destroy the party. Opportunists moved in, hoping the hour had come for an ouster."