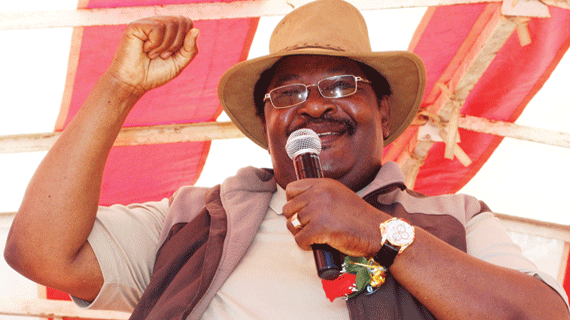 ZANU PF politburo member and Transport minister Obert Mpofu yesterday said members from the party's Matabeleland North provincial structures who lost in the recent elections are indisciplined and not working together within their areas.
NDUDUZO TSHUMA STAFF REPORTER
Speaking at a Zanu PF Matabeleland North provincial co-ordinating committee meeting in Lupane in preparation for elections for the structure, Mpofu said it was no secret that those who lost in the elections were not co-operating.
Information, Media and Broadcasting Services minister Jonathan Moyo is one of Zanu PF losing candidates in Matabeleland North.
"Mpofu said those who did not win elections were not working together with others and lacked discipline.
"He said it was no secret that they had lost because of that reason, citing Tsholotsho, Hwange East and Binga," a party insider said.
"He said some people did not want Zanu PF to win, but got positions.
"He said where the party won, it was because of understanding and working together.
"Mpofu said where the party lost, we planned with the enemy and those who have not realised their mistakes are the daftest on earth.
"He also bemoaned the time Matabeleland North spent without a substantive provincial chairperson between the sacking of Zenzo Ncube in 2010 and the election of Richard Moyo in 2012."
Mpofu said applications were invited for those interested in taking up posts in the provincial executive, but those who were working against the organisation would be opposed, according to the source.
"Mpofu said the party wanted disciplined members. He castigated some members who did not attend the meetings saying those who abscond should lose their posts," the source said.
Meanwhile, there was drama when a man who owns a building the party is leasing as its offices in Lupane told the meeting that Zanu PF owed him money for rentals.
"The man, only identified as Sigauke, was given the floor initially to make a business presentation," the source said.
"At the podium, Sigauke complained that the offices were not being swept and he was owed in rentals.
"He said he appreciated that money was a problem and proposed that each member contribute $5 each, before producing a $20 note as his own contribution.
"Sigauke was interjected by (Zanu PF politburo member) Sithembiso Nyoni who complained that they could not be disrespected and looked down upon by a stranger," a party insider said.
No comment could be obtained from Mpofu as he could not be reached on his mobile phone.
However, Matabeleland North provincial chairperson Richard Moyo said Mpofu was urging party members to be united and that those who lost were not participating in their districts.
"We were telling members who are interested in the posts of chairperson for the main wing, women's league and youth league to submit their CVs," Moyo said.
"I submitted mine, but I'm yet to know who else is interested."
Moyo also said Sigauke was urging Zanu PF members not to always rely on party elders for money, but contribute to pay rentals.
In Bulawayo, the party dissolved the city centre district following an incident of vote-rigging in last weekend's election for the structures while a member, Joe Reeds Chiyangwa, reportedly in the middle of the scandal, was suspended.
As a result, the district will not take part in the election for the provincial chairperson and provincial structures.
Chiyangwa is expected to appear before a disciplinary committee chaired by deputy provincial chairperson Killian Sibanda.
Sibanda confirmed the development, referring further questions to provincial chairperson Callistus Ndlovu whose phone went on ringing unanswered.