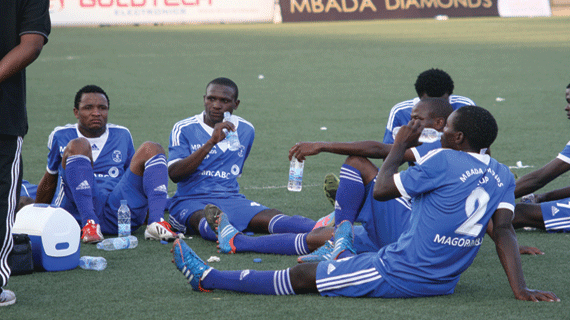 Dynamos ………0 How Mine… (1) 1
HENRY MHARA SPORTS REPORTER
DYNAMOS' slow, but sure slide into a mini-crisis continued yesterday as they were knocked out of the Mbada Diamonds Cup by giant killers How Mine at Rufaro Stadium.
In fact, when Dynamos fail to win three games in a row, it represents an issue, if not a crisis.
A section of the supporters barricaded the main entrance to Rufaro Stadium yesterday after watching their side put yet another lifeless performance to bow out of the million-dollar Mbada Diamonds Cup.
They gathered in small groups where an inquest on the sudden plunge of form was made.
"Pasuwa (Kalisto) should recall Tonderai Ndiraya (former assistant coach who was fired two months ago), or he should just resign," shouted one of the supporters in the middle of the chaos just after the match.
"Pasuwa has been heavily exposed and he should just do the honourable thing.
He should swallow his pride," another one bellowed before the police intervened to disperse the crowd.
The situation was threatening to explode.
Thembani Masuku's 28th minute strike from inside the box which was helped into the nets by Dynamos defender Patson Jaure after a well-worked out free-kick from just outside the box consigned the Harare giants to their second defeat in three matches.
It means the Pasuwa men have failed to defend the Mbada Diamonds Cup which they won in two previous years.
But arguably more worrying more damaging than the result — as Dynamos never got to grips of the game, was the lack of cohesion, drive, purpose and imagination.
"It's very sad for the Dynamos family, but at the end of the day there are three results in soccer and it's unfortunate that we got a loss. Thumbs up to How Mine. They played very well hence they won the match," Pasuwa said.
In his-post match analysis, How Mine coach Philani Ncube declared himself "the Special One of Zimbabwe football".
"Everyone was ruling us out including you the journalists. Considering the stories that were written (in the build-up to the match), it's like we were coming here to just fulfil a fixture. But the unfortunate part is that I grew up in Harare, attended school in Harare so there is no trick that I don't know in Harare," Ncube said.
Yesterday's performance by Dynamos was reminiscent of the display they gave in the 2-4 defeat to Hwange and in the draw against Monomotapa last week.
Even with a lot of possession early on, they looked clueless. And save for some few bursts by Ocean Mushure and Cliff Sekete, the team lacked creativity.
Simba Sithole, who started training on Tuesday following his return form South Africa, was rushed into the starting line-up for Dynamos and he didn't do much.
He was starved of clean balls upfront. Tawanda Muparati, the man deployed to do that duty, was horribly out of form, like he has been this season.
Teams Dynamos: A Mukandi, O Machapa, O Mushure, G Bello, P Jaure, T Magorimbo, T Muparati (B Bogere, 70th min), C Sekete, R Madamombe (M Murape, 58th min), C Kawinga (F Mupasiri, 60th min), S Sithole. How Mine: E Mazarura, B Dube, K Banda, H Dick, G Banda, X Moyo (W Dube, 86th min), M Mupera, N Mukumbi, S Sithole (N Mpala, 69th), Q Sibanda (O Mpofu, 69th min), T Masuku