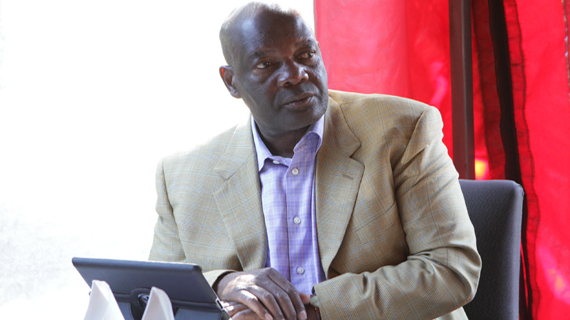 THE GOVERNMENT has suspended free input schemes with farmers starting from this year having to pay for everything they are given as the cash-strapped President Robert Mugabe administration continues to struggle to fund the agriculture sector. GAMMA MUDARIKIRI OWN CORRESPPNDENT
Addressing hundreds of farmers in Bulawayo on Tuesday, the two co-deputy ministers of Agriculture Paddy Zhanda and David Murapira said the government was financially constrained even to fund capital projects and as such, starting this year will suspend free farming inputs.
"(There is) nothing for free anymore," Zhanda, responsible for livestock, said.
"Farmers will pay for the inputs the government is giving them and that will cultivate a sense of responsibility among themselves," he added.
The Zanu PF government has been using free inputs schemes to campaign, but as for this year, farmers will have to pay for every farming equipment and seeds coming from the government.
Zhanda said farmers in the past years have been abusing free inputs given by government, hence a change in strategy for the new farming season.
Speaking on the same issue Murapira, responsible for cropping, said the government was also finalising plans to set up a high lease facility at Agribank which would allow farmers to borrow money to purchase machinery.
"We are almost finalising the facility and very soon it will be working," Murapira said.
Upon default in payment by the farmer, the bank can confiscate and auction the machinery bought to recover its money.
Speaking on improving farmer's access to loans, Zhanda said they were in discussion with the Lands ministry on a facility that would allow farmers to use offer letters as collateral.
"We are working towards providing a facility where farmers will use offer letters to access funding, but with the approval of the Lands ministry," he said.
The government recently launched a $161 million fund facility for this year's farming season and this was promptly followed by the unveiling of a $620 million loan facility from the Bankers' Association of Zimbabwe.
The government is also working on a $98 million farming mechanisation loan facility from Brazil while negotiations are going on with China over another $300 million loan to finance this year's cropping season.
Zhanda and Murapira toured the now-defunct Cold Storage Commission (CSC) and gave a directive to the struggling parastatal management to look for private public partnership adding that the government had no money to fund the recapitalisation of the entity.
CSC is battling with a debt of $22 million and workers' salary arrears of $2,1 million.
The bleeding parastatal, in the first half of the year, recorded a $3 million loss and requires $58 to full recapitalise.  Twitter feedback @mudarikirig