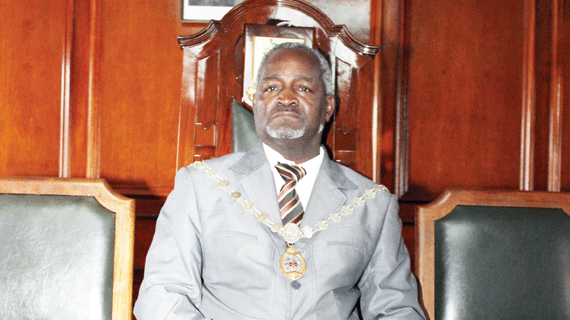 PUMULA MP Albert Mhlanga and former Bulawayo deputy mayor Amen Mpofu almost came to blows over the alleged imposition of businessman Gift Banda as the city's new deputy mayor after an MDC-T provincial meeting degenerated into chaos.
NQOBANI NDLOVU STAFF REPORTER
Mhlanga is also a former Bulawayo deputy mayor.
MDC-T insiders said Mhlanga and Mpofu had to be restrained by some officials.
The two were also involved in an ugly spat over the selection of Banda last month, with Mpofu accusing Mhlanga of being a mole out to destroy the MDC-T Bulawayo province.
It is alleged that councillors had elected Martin Moyo as mayor and Earnest Rafamoyo as deputy mayor, only for Mhlanga to shoot down their nomination of their choice for deputy.
It is said Friday's fracas started after Mhlanga accused Mpofu of being jealous of the flamboyant businessman.
Mpofu reportedly hit back by accusing Mhlanga, the MDC-T Bulawayo organising secretary, of being a zombie who was corrupt and only supporting Banda for suits and money.
Mhlanga and Mpofu yesterday confirmed crossing paths at Friday's provincial meeting with the latter accusing Mhlanga of being overzealous while the former hit back saying he was angry for failing to canvass to be re-elected into council.
"Mpofu must be having some issues with Banda," Mhlanga said.
"He wanted to be the mayor, but failed. He played his part, but he is still angry that he was not re-elected into council."
Mpofu said: "Mhlanga is a nice but overzealous somebody. I'm not someone who is into the habit of fighting people. However, I fear no one but God.
I'm an outspoken person. I speak my heart out. I'm not part of that crew that says yebo nkosi (yes sir). We are having a problem in the MDC-T of omafikizolo (Johnny-come-lately)."
Despite resistance from some councillors, Banda was eventually elected deputy mayor amid allegations that he bribed some by buying them suits, a charge which he denies.