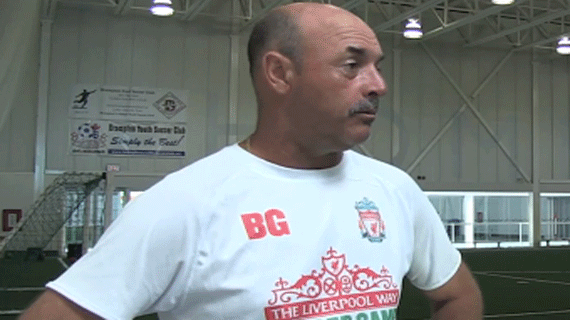 LONDON – Bruce Grobbelaar nods earnestly and begins. "I can tell you this because it's history and we both laugh about it," says the 55-year-old, who won more medals at Liverpool than any other goalkeeper in the club's history. "I broke Steve McMahon's nose twice in one night."
It was October 1987 and Liverpool had beaten Dundee 4-0 in a friendly. There was a party at Royal Saint Andrews, overlooking the golf course. "We were all having a pint afterwards and Steve got into a disagreement with (Liverpool teammate) Barry Venison. All of the Dundee players wanted to get involved, so I pulled the pair of them to one side."
McMahon's ire turned towards Grobbelaar. "Steve blew his top and swung a punch at me. So I head-butted him and bust his nose. He whinged to (manager) Kenny [Dalglish] and the boss tried to blame me. But the receptionist of the hotel confirmed that Steve was the aggressor."
Grobbelaar roomed with Craig Johnston. "The attitude from the decision makers was probably "Let's put the two freaks together." Craig was a constant moaner. After the fight, he refused to room with me. "You know these Scousers," he said. "Macca will try to get into our room and attack you.
"He must have been desperate because he moved in with Steve Nicol for the night. Nobody ever wanted to room with Stevie because he was a bloody nightmare. All he did was eat crisps and talk."
At 3.20am Grobbelaar was awoken by somebody knocking a lampshade outside his door. "I hid behind the door in the bathroom and watched the person creep in. Craig was right in his prediction – he was canny like that. I tapped Macca on the shoulder and smacked him across the nose for the second time in the night. He never messed with me again."
Grobbelaar, with his penetrating gaze, earring, handlebar moustache and peculiar accent, bursts into unruly laughter at the story's end with all the intensity of Jack Nicholson's character in The Shining. Then he contemplates his vertiginous rise from the troubled land of Rhodesia (now Zimbabwe). For someone who endures a reputation as a jovial individual, his tale from the start is notably a dark one.
"It is very true that my story is different. You couldn't compare it to a Hollywood story, though. No, no. In Hollywood, when you've made it to the top – you're there for life. In the UK, people look for a way to try to knock you down. People think that because I was at Liverpool for such a long time – in a period where the club was very successful – that it was bliss all the way through.
"But at the start, because of poor performances, I received death threats. I played for the club through two stadium disasters then later was falsely accused of fixing matches. I loved my time there, but it would be a lie to say it was always a walk in the park."
Grobbelaar, who now lives in Canada, was born in Durban, South Africa, in 1957 and his family moved to Rhodesia when he was two. "The surname Grobbelaar is roughly translated in English from original Dutch as "clumsy", so I think I was struggling from the start to rid myself of the clown tag that plagued me throughout my career."
As he grew up, racism was on every street corner, but it was something Grobbelaar only began to analyse when he started to play football competitively. "From an early age we were taught in school that there was a fundamental difference between black people and white people – that we were superior."
Grobbelaar's saw things differently after joining a predominantly black team called Highlanders, from whom he received an interesting signing-on present. "They offered me a cow, a goat and a sheep," he smiles. "Then the second question was whether we wanted them alive or to collect them at the abattoir. We took the goat alive and the other two dead. My mum went with me to pick them up and for the first time genuinely started to talk with the blacks. She realised they were just as normal as us."
Grobbelaar's fledgling career was interrupted when he was called up to fight in the Bush War. The next two years changed his outlook on life. "How can I forget or forgive myself for killing a fellow human being, even if it was in a war? I still have nightmares about it. Everything else in life seems insignificant compared to my years in the forces. During bayonet training, our superiors tried to make it more serious by making us scream, "I'll kill you, you black bastard.'
"When you're eyeball to eyeball with the enemy, you know that one of you is going to die. But that doesn't make it any easier in dealing with the guilt. My time came when we were helicoptered into a village on the Mozambican border with the sole instruction of shooting anything that moved. One of the enemy came at me and I shot him. I felt nothing but relief at the time. To say it changed me is an understatement. From then on, I set out to live life to the full."
Grobbelaar joined Liverpool in April 1981 after a spell playing in Canada. "I had been at the club barely six months when I started to receive letters through the post. One man wrote to me saying he had been watching top-class football for more than 30 years and that if Tommy Smith were still Liverpool captain, he would have already broken my legs three times for the errors I made.
"That was one of the pleasant ones. Souness, Hansen and Dalglish were very harsh. They'd be your best friend if you were playing well and winning. But if you made a mistake, they never spoke to you. I don't think it was a personal thing; it was just a device by the older players to sort out the stronger-minded players from the weaker ones."
Grobbelaar's penalty heroics helped Liverpool win the European Cup in Rome in 1984. A year later, they reached the final again, when they were due to play Juventus in Brussels. With 60,000 fans assembling inside the Heysel stadium, a riot started, resulting in the collapse of an already crumbling wall and the deaths of 39 Juventus supporters. A five-year blanket ban on English sides playing in Europe followed, but Grobbelaar is adamant that the instigators were not from Liverpool.
"It was worse than witnessing what I saw in the Bush. These were grown men behaving like savages. My then mother-in-law came over for the final on the ferry, and she was one of many who were handed pamphlets by the National Front, which basically said, 'Liverpool will not be in Europe again.'
"The NF saw Scousers as scroungers and envied Liverpool's success on a football field. My mother-in-law said that a lot of the people handing out pamphlets had Chelsea and Millwall tattoos on their arms. People are still free now with blood on their hands."
Grobbelaar later decided to try to find out for sure whether the NF were really implicated in Heysel. "I travelled to one of their headquarters just outside Slough for a group meeting. They recognised me straight away and because I was a white guy from Rhodesia, they assumed that I was racist. So they welcomed me.
"I had a drink and tried to relax. One of the heads approached me and we got talking. I asked whether they knew anybody who was involved in Heysel and all of a sudden he went cold, said no, then walked off. He sussed me and I decided it was best I leave for my own safety."
Four years after Heysel, came Hillsborough, when 96 Liverpool fans were crushed to death on the Leppings Lane end, in front of which Grobbelaar was keeping goal. "I knew exactly what was happening from the pitch, so why couldn't the people who had the power to make the right decisions change things? I told a policewoman to open the gates, but it seemed to take a long time for it to register with her the desperation of the situation.
"On the 15th of April every year, I feel uneasy with myself wherever I am in the world. Mostly, I think about why nothing has been done for the 96 families. That's what hurts most."
– Daily Telegraph