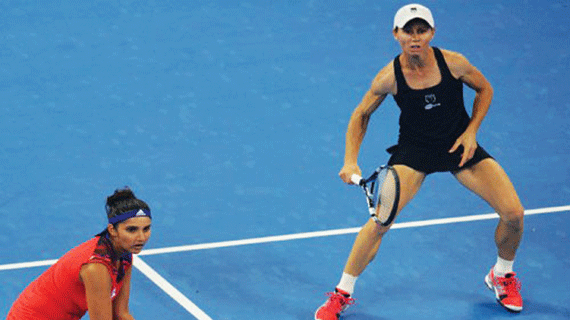 ZIMBABWE's Cara Black was rewarded for an impressive two weeks after climbing two places on the world rankings to position 14, before confirming that she would continue her blossoming doubles partnership with India's Sania Mirza next season. DANIEL NHAKANISO SPORTS REPORTER
The former world number one female doubles player, Black (36) and Mirza (26), who had never played together beforehand, won the Pan-Pacific Open in Japan last week and followed it up with the China Open title on Saturday.
The number eight seeded Black and Mirza clinched the China Open title with a 6-2, 6-2 win over the Russian pair of Vera Dushevina and Arantxa Parra Santonja to conclude a dominant campaign in which they didn't lose a set all week.
The pair also posted a shock straight set win over the world number one pair of top seeds Sara Errani and Roberta Vinci from Italy in the semi-finals.
"We couldn't have asked for a better start," Black told the WTA's official website yesterday.
"We'll be playing together next year, so this is a pretty good start for that. We're looking forward to giving it a shot and playing the whole year.
"We're going to have a good off-season. I'd like to improve all around, especially my serve and things like that, play on the ground a bit better — it'll be fine-tuning, which will be a lot of fun to work on."
After the impressive win at the weekend, Black took her tally of the season to three WTA doubles titles since coming back as a mom this year.
Black, who won in Auckland (with Anastasia Rodionova) and Tokyo and Beijing (with Mirza) now has a total of 57 career WTA doubles titles to her name, making her 13th on the all-time list — Martina Navratilova leads that list with an incredible 177.
Mirza was full of praises for Black with whom she has extended her partnership for the full 2014 season adding that their on-court-chemistry works well.
"It's great to play with Cara. She is amazing and has been number one in the world. Her serve is great, we played our best match in the final," she said.
"Me and Cara play very opposite games and that's why we are matching because she is very good at the net and I hit from the back of the court very big. We complement each other well. So that's one of main reasons we are doing so well.
"I will be playing with Cara next year. We have decided to play together full season," she added.