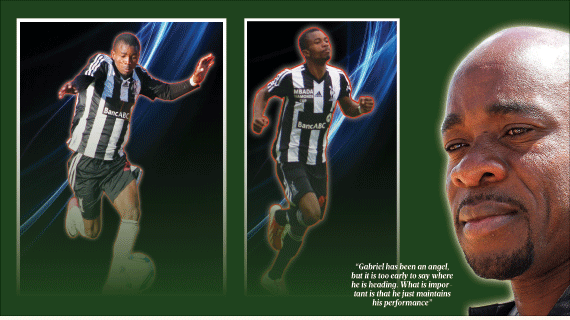 THE Highlanders duo of Master Masitara and Tinashe Chipunza acquired during the mid-season transfer window period from Botswana, appear to have failed to make a mark at the double chasing Bulawayo football giants.
FORTUNE MBELE SPORTS REPORTER
The Mbada Diamonds Cup and the 2013 Castle Lager Premier Soccer League, with seven matches to the end of the season, are still on offer for the team that finished second last season.
Bosso will take on Buffaloes in the quarter-finals of the Mbada Diamonds Cup at Mucheke Stadium in Masvingo on Sunday after salvaging a point from the soldiers in a league match at Sakubva Stadium in Mutare at the weekend.
Masitara has only played in two matches since he joined Bosso in July.
He was replaced by Beaven Chikaka in the 60th minute in the 0-1 loss to Black Mambas at Morris Depot on August 14 and played only 15 minutes replacing Masimba Mambare in the 0-1 defeat to How Mine at Barbourfields Stadium on September 15.
In total, Masitara who had been tipped to bring the goalscoring drought in Highlanders to an end when he returned, has only played 75 minutes for Bosso since he joined the club and has not found the net.
Chipunza played his first game on Sunday against Buffaloes replacing Milton Ncube in the 51st minute.
Masitara was not even part of the 18-member squad to Mutare.
Their coming in at the expense of Graham Ncube who had banged in five goals for Bosso and Cleopas Dube, loaned to Division One side Bulawayo Chiefs, could have been a waste of resources for the financially troubled Highlanders.
Coach Kelvin Kaindu has put his trust in the youthful duo of Gabriel Nyoni and Ozias Zibande.
Kaindu yesterday said Bosso were still trudging on in the league and would be hoping to upstage Buffaloes in Masvingo. Selection into the team will rest on how the players perform at training and which opponents they are playing against," he said.
"We are still moving slowly. The two (Masitara and Chipunza) are around and they are doing fine. When they came in everyone expected flashes, but being in the team will only depend on how they perform at training and which opponents we would be playing against.
"I cannot say that Masitara did not make it into the team that played yesterday (Sunday). He was just not part of the team. For the Mbada Cup it will be a different ball game. There is no draw. I believe the best team will just win. Gabriel has been an angel, but it is too early to say where he is heading. What is important is that he just maintains his performance," Kaindu said.
It is yet to be seen if Bosso will wrest the league title from champions Dynamos who have played 23 matches with 11 wins, three defeats and nine draws, with 42 points.
DeMbare played a goalless draw with Monomotapa on Sunday at Rufaro Stadium.
Bosso are on 41 points from 12 wins with five draws and six losses.
Last season, they only lost once to Monomotapa, but suffered a blow of not winning the title.
They finished the season square on 69 points with DeMbare, who had drawn six times and lost three matches, but were second on goal aggregate.