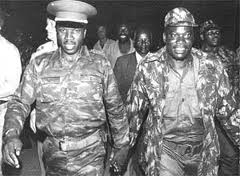 ZIPRA veterans on Saturday resolved to compile an interim register to be submitted to President Robert Mugabe for consideration as shareholders in the China-Africa Sunlight Energy coal mine in Gwayi which he promised the former freedom fighters would benefit from.
SILAS NKALA STAFF REPORTER
The company is a joint venture between the Defence ministry's Oldstone Investments and a Chinese company, Sha Don Sunlight Energy Investments and is situated at Chamankano Farm owned by Matabeleland North Provincial Affairs minister Cain Mathema.
Mugabe promised that Zipra combatants would be major beneficiaries in the consortium last December, but their association is still not represented among shareholders.
Cetshwayo Sithole, who was programmes director during Zipra's Nitram Holdings (Pvt) Ltd company's annual general meeting held at the Castle Arms Motel in Bulawayo last Saturday, said it was agreed they should submit a register to Mugabe for him to select shareholders representing the ex-combatants.
They believe this would show how serious the President was about ensuring Zipra members benefit from the mine.
"We agreed that we must soon produce an interim register which we would submit to the President and say, here we are; we acknowledge your consideration for us to be shareholders at the Gwayi coal mine; here is our interim register of some members for consideration as shareholders," he said.
Sithole said they were calling for all Zipra members to register so that they become eligible to have shares at the mine as promised by Mugabe.
The company will build a power station that will be commissioned in two years' time and projected to produce 400 megawatts of electricity and create about 4 000 jobs when fully operational.
It is also expected to produce methane gas.
The move by Zipra veterans to produce a register comes at a time the former liberation fighters are seized with efforts to recover properties that were confiscated by the Zanu PF government at the height of Gukurahundi in the early 1980s.
The members said they still needed clarity from Mugabe and stakeholders on how as war veterans, they would benefit from operations of the mine.
About 5 000 Zipra veterans were vetted at independence compared to about 35 000 Zanla fighters, a development which was condemned by Zipra as a move to undermine their role in the liberation struggle.
Zipra said thousands of its members were not vetted because some of them fled the country at the height of Gukurahundi while many others did not come forward as they feared being branded dissidents.