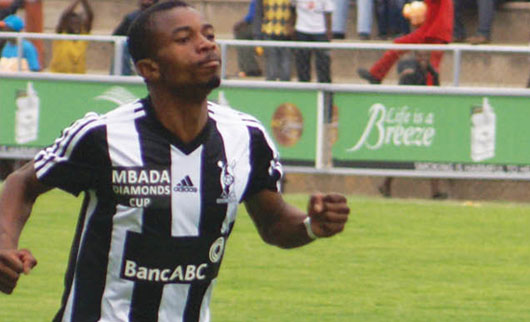 Highlanders . . . . . . . . . . . . . . . (2)3 Triangle . . . . . . . . . . . . . . . . . . . .(1)2 HIGHLANDERS breezed to the quarter-finals of the Mbada Diamonds Cup with a 3-2 victory over Triangle in an exciting match played at Barbourfields Stadium in Bulawayo yesterday. Sukoluhle Mthethwa Sports Reporter
Striker Gabriel Nyoni scored what could be the fastest goal of the tournament after he thrust Highlanders in the lead after just two minutes.
He added a second one for Bosso in the 31st minute while veteran striker Njabulo "Tshiki' Ncube grabbed the third in the 55th minute.
Triangle got their goals through Charles Makoto in the 15th minute and Pasca Manhanga after 63 minutes. Highlanders coach Kelvin Kaindu was ecstatic about the victory as his team atoned for its poor form in the league.
"The game was very exciting because both teams put up a good effort," he said. "As for the goal scored from the blind side, it happens in football.
"We have been concentrating on trying to score goals and maybe that is why we lost concentration in defence. "I am happy that we scored three goals because we have not done so in a long time."
Triangle coach Gishon Ntini vanished into the dressing room soon after the match and was not available for comment.
Nyoni got an early goal for Highlanders when Milton Ncube crossed the ball to Lawson Nkomo to set up Mthulisi Maphosa.
Maphosa, standing on the blind side, headed the ball to Nyoni who made no mistake heading past Ashley Reyners. Two minutes later Nkomo's cross found Peter "Rio" Moyo inside the box, but Reyners denied the enterprising midfielder a clear goal.
Triangle had a chance to equalise when Lameck Nhamo shot wide inside the box after being set up by veteran Limited Chikafa after nine minutes.
The match continued on a very fast pace resulting in Triangle getting the equaliser in the 15th minute when Makoto took advantage of a lapse in concentration by the Highlanders defence.
Nyoni put Highlanders back in the lead when Nkomo found Ncube who laid a beautiful pass for the striker inside the box to slide home the second goal.
In the 55nd minute Njabulo scored the third for Highlanders from close range after a Bruce Kangwa cross. Pascal Manhanga replied for Triangle in the 63rd minute beating Munyaradzi Diya on the near post, but it was not enough to stop Bosso.
Kangwa was named man-of the-match and walked away with $500. He stood firm in defence and was visible whenever Highlanders ventured upfront.