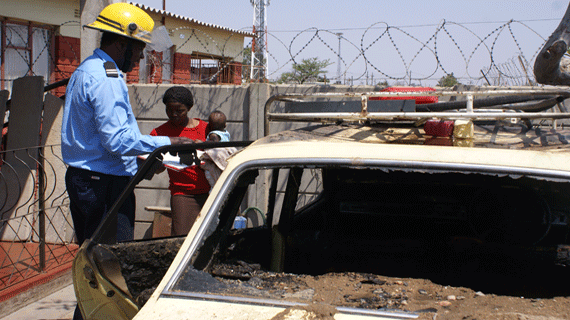 THERE has been an increase in the number of house fires in Bulawayo in the last few months as Zesa intensifies power cuts, leaving several residents counting their loses. LINDA CHINOBVA OWN CORRESPONDENT
Bulawayo's chief fire officer Richard Peterson told Southern Eye the fire brigade has been kept busy in the last few months battling to extinguish household fires almost on a daily basis.
Peterson said although he could not provide statistics, most calls they attended to were as a result of fires triggered by household electrical appliances that sparked when electricity suddenly returned after load-shedding.
"In these past months it appears we are having a lot of fires which are caused by various factors that include power cuts, candles left unattended to, grass or rubbish fires," he said.
"There were more than seven houses that were affected by fire caused by an electrical fault."
In an interview with Southern Eye, the owner of an Old Lobengula house which got burnt down last week, Sibongile Mahlangu, said they saw sparks on Zesa main lines on Wednesday just before her house caught fire.
Mahlangu lost property estimated at over $3 000 as a result of fire. She said the fire affected her neighbours' houses as their electrical appliances were damaged by the sudden surge.
Fire also gutted an apartment at Griffin Terrace Flats in Tegela destroying property worth thousands of dollars a fortnight ago. Residents said the fire started in one of the apartments at the block of flats and the owner suspected it could have been caused by an electrical fault after hours of power outage.
Peterson said it was possible to minimise fire accidents by switching off all home electrical appliances during an outage.
"When there is no power, people should not leave any gadgets connected because when it is restored, gadgets like water heaters or stoves will heat up and sometimes blow up," he said.
Peterson urged residents to switch off all sockets and unplug all appliances whenever there was a power cut.
He also warned against random burning of grass or rubbish saying it was dangerous and fires could easily get out of control and end up affecting people, including burning down houses.
He encouraged residents to familiarise themselves with the fire brigade or visit the offices to acquire advice on how to curb destructive fires. Below are some tips from the Bulawayo Fire and Ambulance Services on safety precautions:
 Keep electrical leads, towels, cloths, loose clothing and anything else that may catch fire away from the oven
  Keep the oven and grill clean. A build up of fat and grease can easily ignite or catch fire
  Keep toasters clean, free of crumbs and away from curtains, and anything else that can ignite or catch fire.
  Never put anything metallic inside microwaves
  Never over load sockets. Use one plug in each socket. If you have to, use a fused adapter and keep the total output to no more than 13 amps. Remember a kettle alone uses 13 amps. High rated appliances such as washing machines always need their own socket
Make sure plugs have the correct fuse for the appliance being used, of in doubt, refer to the manufacturer's instructions
  Turn off electrical appliances when not being used and have them serviced regularly.
Keep electrical leads and appliances away from water
Use a spark device to light gas cookers as this is safer than using matches or lighters.
  Never leave children alone in the kitchen. Keep matches, lighters, pot, and pan handles where children cannot reach them.