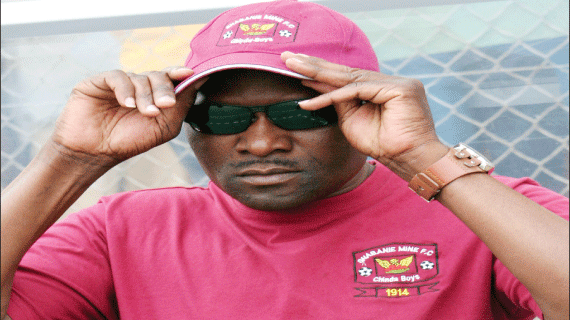 SHABANIE Mine coach Luke Masomere, who lifted the BancABC Sup8r Cup last Saturday, has urged referees to be tough on players who feign injuries when the Mbada Diamonds Cup roars into life across the country this weekend.
Sukoluhle Mthethwa Sports Reporter
Shabanie beat FC Platinum 5-3 on penalties at Mandava Stadium in Zvishavane, walking away with $120 000.
Masomere will lead his charges against Chicken Inn in the preliminary round of the Mbada Diamonds Cup at the same venue on Saturday.
"I would like to encourage referees not to allow time-wasting antics which teams apply in matches because deliberate time-wasting is tantamount to match-fixing. As coaches, we are not happy with a situation whereby referees allow deliberate time-wasting.
"If you look at the referee who was in charge of our match against FC Platinum, you would have thought he was from another country because he did not tolerate any time-wasting. Sometimes you find a player lying in the centre of the field while the goalkeeper will also be lying down in his area, both feigning injury. That is time-wasting," Masomere said.
The match promises to be exciting as Chicken Inn would want to avoid defeat, having been booted out of the BancABC Sup8r Cup quarter-final by Shabanie Mine.
Despite Shabanie playing in their home town, Masomere said they were not reading much into that.
"There is no advantage in playing at Mandava because Chicken Inn have played FC Platinum there and they got good results. A team can lose at home," he said.
In Bulawayo, a double-header is lined up at Barbourfields (BF) Stadium on Sunday, How Mine locking horns with Black Rhinos and Highlanders facing Triangle.
How Mine assistant coach Isheunesu Chaka said they were gearing up for the game.
"We are playing at BF, but the fact that we will be in Bulawayo does not give us an advantage as we go into the match against Black Rhinos. Black Rhinos are also used to playing at BF. We are not under pressure at all. We want to win the match," he said.
Highlanders coach Kelvin Kaindu said they were not going to bank on home advantage.
"Playing at home gives us a slight advantage because we will have a lot of our followers attending, but we have seen teams winning away from home," he said.
On the same day, Hwange will entertain BancABC Super8 Cup runners-up FC Platinum at the Colliery.
Hwange coach Nation Dube said they were ready to host FC Platinum at home.
"This will be a different game altogether. It will be like a money game.
"The Colliery Stadium is our home ground, so that means we will have many supporters coming to watch the game. The gate charges are a dollar, so it means no-one would want to stay at home. The supporter, the 12th man, will be very important as we go into the game," he said.