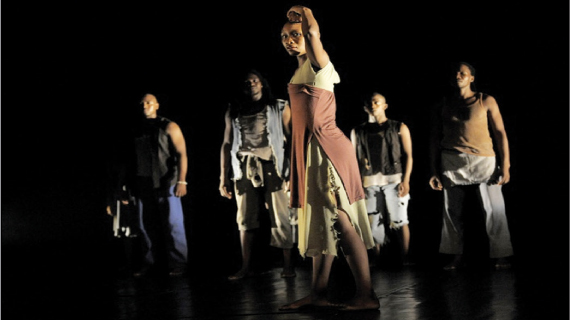 AWARD-winning South African group Flatfoot Dance Company put up a scintillating performance on Tuesday night when sharing the stage with Zimbabwe's much-travelled group, Tumbuka Dance Company, in an event that was held at Bulawayo Theatre. Luyanduhlobo Makwati own correspondent
The group from Durban left an indelible mark on the audience with its highly energetic dances and well-choreographed moves, laced with breakdance.
The group which is in Zimbabwe courtesy of Pro-Helvetia, a Johannesburg institution left the audience asking for more.
The show saw Flatfoot presenting a powerful theatrical production titled Last Thoughts.
Artistic director and group choreographer Llian Loots said they were happy with the response they got from the audience.
"We are happy that people appreciated us and they supported us throughout the performance and we feel honoured as a group," she said.
Loots said that they had failed to come and perform in the city's prestigious event over the last two years and they were happy that their dream had finally come true because they had managed to perform in Bulawayo.
"We are happy that we have performed at Intwasa, we have been longing to take part in this festival.
Now that we have performed in Bulawayo our dream has been achieved," she said.
The group performed a breathtaking piece of art which was a combination of various arts genrés that took the audience through a long journey of self-understanding since it was a fusion of poetry, breakdance and film.
The show was kick started by Tumbuka who also performed par excellence as they did their piece of art called Can't Talk About This.
The production took the crowd by surprise as the group showcased its talents.