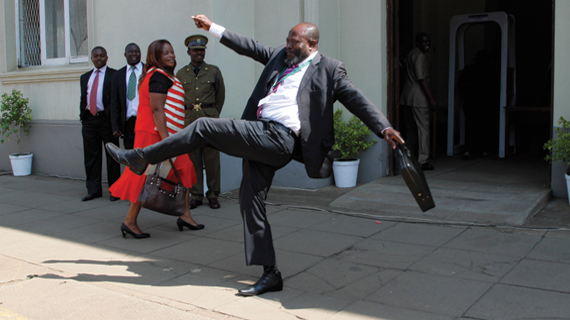 BUHERA South MP Joseph Chinotimba yesterday left fellow legislators in stiches with a maiden speech punctuated with incoherent points and praise singing for President Robert Mugabe.
EVERSON MUSHAVA CHIEF REPORTER
Debating Mugabe's speech delivered at the official opening of the Eighth session of Parliament, Chinotimba praised the veteran ruler for his call to end corruption which he said was being perpetrated by senior and well placed people in society, MPs included, at the expense of the common villagers.
"I applaud President Mugabe for his calls against corruption. However, the biggest question is where is corruption found?
"It starts here and it is here. For example, if Zanu PF MPs laugh at MDC MPs and MDC MPs laugh at Zanu PF MPs, that is corruption," Chinotimba retorted, to wild cheers.
After his praise-singing, Chinotimba said the Agriculture ministry should be given money to buy food without "any debate" to feed hunger-stricken villagers in the countryside, particularly his constituency. He also lamented the poor conditions of roads in his constituency.
"The people have even christened the poor roads with some names. First, they used to be called Kangai Road (after the then MP, the late Kumbirai Kangai), then the roads were named Tsvangirai Road (after MDC-T leader Morgan Tsvangirai) and now they call them Chinotimba Road, due to the deplorable conditions.
"I am surprised when I travel and see on some roads they put tar on top of another tar, when gravel roads in my constituency are pathetic.
"Sometimes I wonder what type of a country Buhera is in the whole of the country called Zimbabwe," Chinotimba said, to even deafening laughter from the other MPs.
"Before I came here to speak, I received a call that hyenas are now a menace in my constituency," he added amid wild cheers. "You laugh because the hyenas have not terrorised people in your constituency; that is why I said corruption starts here.
"This Parliament should decide what could be done with these animals. Of course the President said animals should not be killed." Meanwhile , Gwanda MP Edson Gumbo (Zanu PF) said corruption in the mining sector was too complicated that there is need to set up the Mining Anti-Corruption Unit to deal specifically with the scourge in this industry.