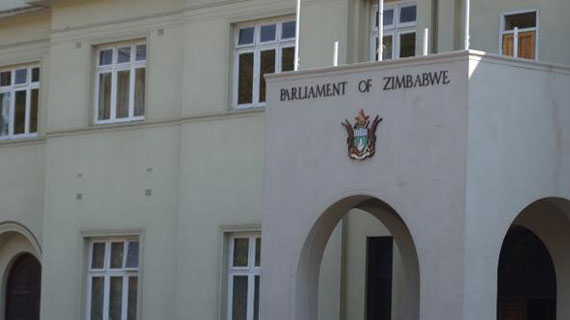 LEGISLATORS are today expected to debate President Robert Mugabe's speech when Parliament resumes sitting following the controversial July 31 elections amid concerns not much would be done to align existing laws to the new Constitution as expected.
CHIEF REPORTER
Mugabe, in his official remarks setting the legislative agenda a fortnight ago, said Parliament would be required to align pieces of legislation to the new Constitution that was accepted in the referendum of March 16.
Zanu PF dominates the lower and upper houses of Parliament after gaining two thirds majority.
According to Veritas, which monitors parliamentary issues, only six of the 29 Bills Mugabe mentioned had anything to do with aligning existing laws with the new Constitution.
Veritas said most of the Bills were outstanding legislative business from the previous Parliament.
"The Zimbabwe Land Commission Bill will give legal underpinning to the establishment of the Zimbabwe Land Commission, and its taking over the tasks and role previously performed by the Agricultural Land Settlement Board," the group said.
"Sections 296 and 297 of the Constitution create the commission and list its functions.
"The Zimbabwe Anti-Corruption Commission Amendment Bill is necessary to align existing provisions to the new Constitution.
"The President also said members of the commission will be required to adhere to a strict code of ethics and also to publicly declare their personal assets."
The, declaration of assets requirements, Veritas proposed, should be enacted for Cabinet ministers, judges and other holders of important public offices.
The National Prosecuting Authority Bill would be bolstered by the establishment of the National Prosecution Authority as prescribed in the new Constitution which would take over functions previously performed by the criminal division of the Attorney-General's Office.
However, Veritas observed that Mugabe did not mention Bills for the other new commissions set in the new Constitution such as the National Peace and Reconciliation Commission and the Zimbabwe Gender Commission.
Mugabe did not refer to the need for new Acts for provincial and metropolitan councils.
"It is disappointing that the President's speech made only token references to what needs to be done to align existing legislation with the new Constitution," Veritas said.
"Acts that urgently require such alignment, but went unmentioned by the President, include (the list is far from exhaustive), Citizenship Act, Public Order and Security Act, Criminal Procedure and Evidence Act, Criminal Law (Codification and Reform) Act, Access to Information and Protection of Privacy Act, University Acts, Police Act, Defence Act and Prisons Act and the Electoral Act."