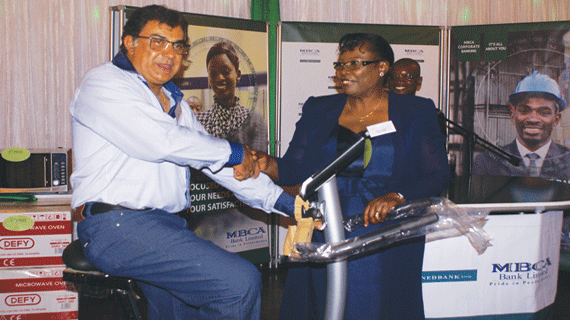 MBCA Bank Limited is expected to open its first private bank in Bulawayo as part of its branch roll-out programme to increase footprints in the country, an official has said.
Gamma Mudarikiri Own Correspondent
In an interview with Southern Eye Business on the side-lines of a business cocktail held at a local golf club, managing director Charity Jinya said the private bank would be operational possibly before the end of this month.
Jinya also revealed that two more additional branches would be opened in the Midlands and Harare respectively before the end of this year.
"We are increasing our foot print in the country and we are looking at opening two more braches to add to eight before the end of the year," Jinya said.
The bank currently has six branches spread in the major towns of the country including Bulawayo and Harare.
Jinya, however could not been drawn into divulging on how much the bank will spend in the expansion project, adding she was at the moment not in a position to even give details on the exact location of the branch in the Midlands.
She, however, said the private bank would be opened at Belmont in Bulawayo adding that all processes regarding its operations were almost complete.
She added the bank was also working at this year starting asset financing which includes using balance sheet assets such as accounts receivable, short-term investments or inventory to obtain a loan or borrow money.
MBCA Bank is a subsidiary of one of South Africa's fourth biggest bank in terms of market capitalisation which holds 74% shareholding in the Zimbabwe-based bank.
MBCA in the first half of the year-recorded an after-tax profit of $2,104 million up from last year's $2,077 million buoyed by growth in incomes.
The bank's net interest income rose to $5,6 million from $5,2 million recorded during the same period in 2012. The bank recently announced that it was still negotiating with the Youth Development, Indigenisation and Empowerment ministry for an agreement on its empowerment and indigenisation programme.
The law requires foreign-owned firms to cede 51% of their shareholding to locals.
MBCA Bank is one of four foreign-owned banks under pressure by the government to cede majority shareholding to locals under the contentious indigenisation law put in place in 2007.
Other foreign-owned banks are British banks — Barclays Bank of Zimbabwe and Standard Chartered Bank of Zimbabwe — and South Africa's Stanbic Bank, a unit of the Standard Bank group. Reserve Bank of Zimbabwe governor Gideon Gono is, however, on record saying he would not allow "unstructured" and "reckless" indigenisation of banks.
Gono was allaying fears which had gripped the financial sector after President Robert Mugabe and Zanu PF had announced intensifying the implementation of the indigenisation law when he romped to victory in the July 31 elections.
Twitter feedback @mudarikirig
Related Topics