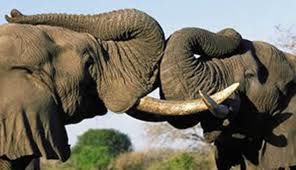 THE UNFOLDING ecological disaster at the Hwange National Park where almost 70 elephants died following cyanide poisoning by a suspected syndicate of poachers is a timely wake-up call to the government.
Suspected poachers reportedly laid down salt laced with cyanide to kill the animals for their tusks, in what is clearly Zimbabwe's worst case of poaching in history.
The mass deaths were first discovered last month and police have arrested at least nine suspects linked to the poisoning scandal.
A number of government ministers have also visited the giant park to assess the extent of the disaster, but it may as well be a case of too little too late.
Cases of poaching reached endemic levels during Zimbabwe's chaotic land reform programme and the government chose to look the other way. Poachers, especially those hunting for elephant tusks and rhino horns, have ready markets in unscrupulous businesspeople who sell them in Asia where they are popular for traditional medicines.
For years, activists have been warning that influential people, including some in the government, have links with these poaching syndicates, but no one cared to listen.
It has taken the Hwange disaster for law-enforcement agents to show some seriousness in fighting poaching.
The poisoning at the giant park does not only pose a danger to other animals, but also puts people living on the outskirts of the park at risk.
Starving villagers could be tempted to eat meat of dead animals unknowingly and this calls for an extensive sensitisation exercise in villages bordering the national park.
Police also have to prioritise the investigation of this case so that the cyanide that could still be in the hands of these dangerous elements is seized to prevent further damage.
Instead of sending endless delegations of ministers to the park, the government should be taking practical steps to mitigate the disaster by capacitating institutions with the capacity and know-how to deal with the problem.
We are encouraged by the new Environment minister Saviour Kasukuwere's zeal to tackle the scourge of poaching. The Hwange disaster could have been a blessing in disguise as it happened at a time he was assuming his new portfolio.
The minister now really knows the areas he needs to prioritise and tackling poaching is clearly one of them.