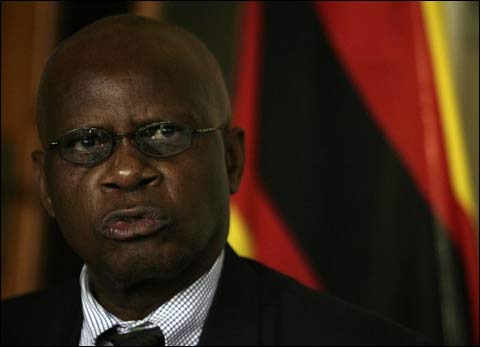 HARARE — Zimbabwe will increase economic ties with friendly countries like China to develop its economy as Western nations maintain their sanctions after President Robert Mugabe's re-election, the new Finance minister said yesterday.
MacDonald Dzirutwe
Mugabe, Africa's oldest leader at 89 — who won a fresh five-year term in a July 31 vote which his opponents say was rigged — yesterday swore in his Cabinet, including Finance minister Patrick Chinamasa who was named on Tuesday.
Pointing to multiple flaws in last month's election cited by domestic vote observers, Western governments, especially the United States, have questioned the credibility of the outcome and are considering whether to prolong sanctions against Mugabe.
However, African election observers broadly endorsed the voting and its result as peaceful and free. Chinamasa told reporters the Zanu PF government had accepted the reality that the West would not remove financial and travel sanctions on Mugabe and his senior allies and would not release any direct financial assistance.
"Because the doors have been closed by those who used to be our traditional partners, we have to intensify new economic relationships and friendships.
"That means every country that is friendly to Zimbabwe, including China," he said.
After Western states imposed sanctions a decade ago against Mugabe over alleged violations of democracy and rights abuses in the former British colony he has ruled for 33 years, China has emerged as a major investor in the Southern African State.
It has built the largest alluvial diamond mine in the east of the country and runs the biggest ferrochrome producer.
A Chinese-backed firm will start mining coal in western Zimbabwe and build a 600 mega watts coal-fired power station next year. The government has also given $1,7 billion of contracts to Chinese firms to expand the country's two largest power plants.
Under the now dissolved unity government that followed a disputed 2008 election, the economy had begun to recover.
The International Monetary Fund said in June it agreed to monitor economic programmes until the year end, paving the way for the clearing of billions of dollars of Zimbabwe's debt arrears.
Chinamasa, Zanu PF's top legal official and a staunch defender of Mugabe's re-election, refused to comment on whether these programme would continue but said the economy faced enormous challenges.
While Washington has made clear it intends to maintain US sanctions, Belgium, the centre of the global diamond trade, is demanding that the European Union lift sanctions on one Zimbabwean mining firm.
Mugabe later told reporters yesterday his new Cabinet would focus on agriculture and diamond and gold mining to raise money to restart shut industries and increase government wages. — Reuters