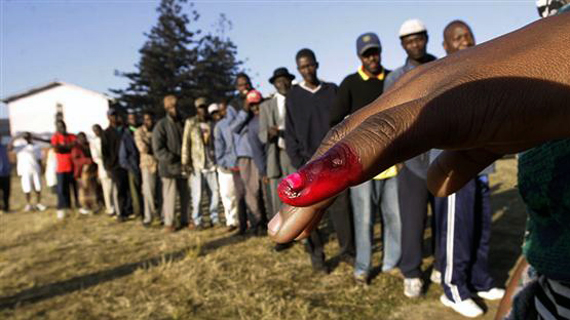 THREE run-off elections at Kusile Rural District Council Ward 5, Ward 4 Kadoma Municipality and Mutasa Rural District Council Ward 30 were held yesterday with no incidences of violence reported.
Staff Reporter
The elections were a result of candidates from Zanu PF and MDC-T receiving an equal number of votes in the July 31 polls in the three wards.#
Polling stations were expected to close at 6pm last night, with counting was expected to commence immediately after.
Zanu PF Matabeleland North chairman Richard Moyo expressed optimism that the party would win the ward. "So far the elections have gone on well and I hope our candidate wins," he said. "We expect results tomorrow (today)."
During the July 31 elections, Ubenene Ncube of MDC-T and Soneni Tshuma of Zanu PF polled 416 votes each in Kusile while in Mutasa, Elias Kembo (MDC-T) and William Ketero of Zanu PF got 692 votes each.
In Kadoma, Fastmore Mandipota (MDC-T) and Godfrey Mavura of Zanu PF were tied on 545 votes. Media reports indicated that in Matabeleland North, all four polling stations opened at 7am, with the longest queues being recorded at Kana Primary School.