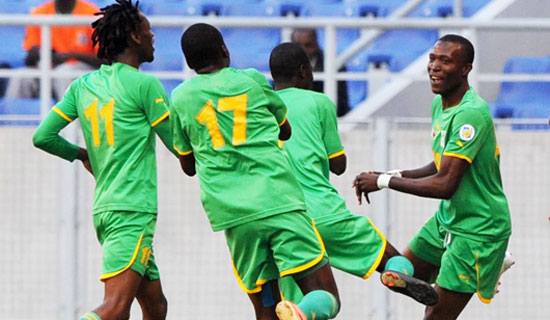 ANOTHER fierce battle will be on this evening as Zimbabwe take on South Africa in an international friendly match at the Orlando Stadium in Soweto.
BRIAN NKIWANE IN JOHANNESBURG, SOUTH AFRICA
The match kicks off at 8:30pm.
The Warriors arrived here yesterday morning with 10 players who did duty against Mozambique in the 1-1 drawn 2014 World Cup qualifier and were joined by Knowledge Musona, Denver Mukamba, Khama Billiat, Kingstone Nkhatha and Cuthbert Malajila at around lunch time.
Durban–based Carlington Nyadombo joined the team just after 3pm to take the squad to 15 players.
They are staying at the Gold Reef City Hotel in Johannesburg, where they had to cool off in the swimming pool due to the simmering heat.
Warriors number one Washington Arubi and Onismor Bhasera were yet to arrive, but were due in time for training in the evening. A notable absentee was Eusebio Manuwere, now based in Mozambique, due to club commitments.
Speaking on Manuwere's absence, coach Ian Gorowa said he had been excused due to club commitements.
"We had decided to give him a chance to play for his country, but because of club commitments, he asked to be excused. His team has been playing in the Mozambican league, so they hinted that he was not going to make it after the match.  Obviously as a coach, you would have made your plans, but now there is nothing we can do. We have to do without him," Gorowa said.
The former Mamelodi Sundowns coach, in his first return to South Africa since taking over from Klaus-Dieter Pagels, said his boys had not come for a holiday, but to intensify preparations for their next assignments.
"This match is going to give us a chance to blend our locally-based players with their South Arica-based counterparts. This is one time that we have been waiting for since we took over as Warriors coaches," Gorowa said.
He added: "It has been always my aim  to have locally-based players for competitions like Chan, but everyone knows very well that we have the Afcon 2015 qualifiers waiting for us. So if we have such chances, we should then utilise them."
Warriors team manager Patrick Mutesva said he was happy with the way the team had travelled and the hospitality they had received from the hosts.
"Everything has been well despite the high temperatures that we are experiencing here. All is well in camp and the coaches are happy with the levels of fitness of the players," he said.
The Warriors were scheduled to have one training session at today's match venue at around 6pm.
The local contingent of players who made the trip are goalkeeper Munyaradzi Diya, defenders Hardlife Zvirekwi, Oscar Machapa, Felix Chindungwe, Erick Chipeta, Patson Jaure, midfielders Masimba Mambare, Danny Phiri, Peter Moyo and Silas Songani.
The last meeting of the two nations – November 15 2011 – produced a 2-1 win for Zimbabwe via a Knowledge Musona double and the hosts tonight, will certainly be looking to revenge the defeat. In the previous year, Bafana Bafana had beaten the Warriors 3-0 at the Moses Mabhida Stadium in Durban.
Meanwhile, Bafana midfielder Lerato Chabangu withdrew from the squad due to personal reasons. Safa's media officer Matlhomola Morake confirmed the Moroka Swallows playmaker's exit from camp on Monday.
Bafana Bafana ended their unsuccessful 2014 World Cup qualifying campaign with a 4-1 drubbing of Botswana on Saturday.