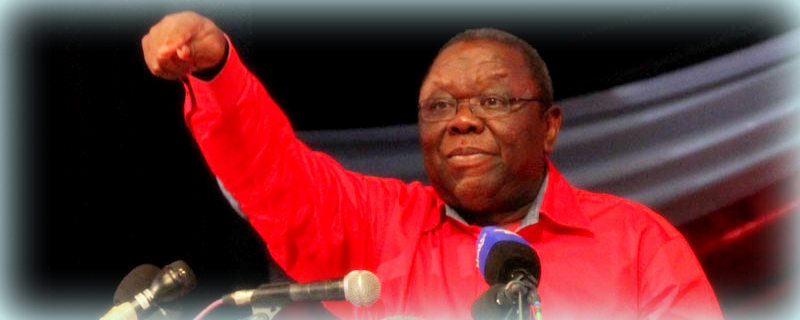 MDC-T leader Morgan Tsvangirai yesterday dismissed reports that he had been offered vice-presidency by President Robert Mugabe, saying he would not legitimise Zanu PF's electoral theft by accepting the position. Nduduzo Tshuma/Stephen Chadenga
There had been speculation that Mugabe's delay in announcing a new Cabinet after his inauguration last week was because he was trying to get Tsvangirai into his government.
Addressing party supporters at the Large City Hall in Bulawayo, Tsvangirai said the only way to restore legitimacy in the elections was to call for fresh, free and fair polls.
"Mugabe's legitimacy will not be endorsed by me or the MDC-T," he said.
"Until a new election is conducted and gives voice to the people, we will not rest.
"Mugabe can win an election, but can never win legitimacy from the people. We did not lose elections although Zanu PF has a sense of triumph that is not victorious."
Tsvangirai urged his supporters not to listen to the media, denying he had been offered a post.
Speaking to journalists in Gweru earlier in the day, MDC-T organising secretary Nelson Chamisa said the party did not dream of such an offer as they had been robbed of an election they had won.
"That is pub talk. That is kombi talk," he said after a provincial meeting.
"There is nothing like that. You cannot rob me of my cattle and then give me the same cattle.
"In any case, we don't dream of such an offer from a party (Zanu PF) that robbed us of an election that we won."
Tsvangirai said Zanu PF did not rig elections in Bulawayo as they knew they would face resistance from the people.
"Some may ask why Bulawayo was spared from this tsunami, where they can steal elections everywhere," he said.
"They faced heavy resistance from the people. They thought poor (MDC leader) Welshman (Ncube) would finish us off."
Tsvangirai said he always knew Mugabe wanted a peaceful, but rigged election and wanted tro regain confidence to face the people who rejected him in 2008.
"Ask yourselves, in your wildest dreams where Mugabe can get two million votes in Zimbabwe? The vote was stolen two years ago," he said.
"When a nationalist movement loses power, it loses it to the military.
"This whole operation was a military operation. You can see the selective intervention patterns ranging from the use of chiefs to manipulation of ballot papers.
"It was a take-no-prisoners situation. They may have succeeded with their military operation, but don't have the support of the people."
The MDC-T leader said all African leaders who wanted to remain in power would consult Mugabe on rigging.
"Even Mugabe was shocked by the level of (his own) rigging," he said.
"He asked them how he would defend such a number. He told them that 61% was too much and said they should have at least given him above 50%."
Tsvangirai said Mugabe's recent statements that Bulawayo and Harare voters should go to the former Prime Minister for service delivery after voting MDC-T, were signs that the Zanu PF leader made false promises in his campaigns.
"He knows he cannot deliver promises to restore industry in Bulawayo," he charged.
"If you have won, then why are you insulting me? You should rule. How do you have service delivery without paying for it?"
Tsvangirai said the party would use its majority in councils to show their systems of governance.
He dismissed reports that he wanted to impose a mayor in Bulawayo, saying he would consult the structures, though insisting they would select a strong candidate.