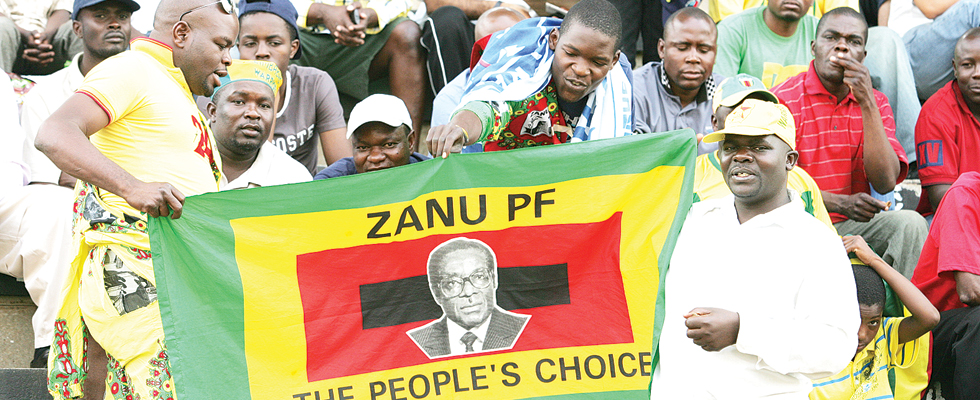 THE landslide victory by Zanu PF in the recent elections by hook, crook or book should send a clear message to Zimbabwe's opposition parties which failed to heed the call by Zimbabweans to forge a united front.
No holds Barred with Dumisani Nkomo The leaders of the MDC formations and to a lesser extent the leaders of Zapu and Mavambo/Kusile/Dawn project should shoulder the blame for failing to see the bigger picture, but being immersed in the politics of self-importance.
One lingering question in my mind though is whether it will be possible for any of these opposition parties to dislodge Zanu PF in their current form, structure and strategic intent. The answer is a resounding "No!" because neither the MDC-T, the MDC nor Zapu will stand a chance in the 2018 elections if they fail to adjust and transform themselves to the political dynamics of the day.
In fact, some of these parties may pale into irrelevance and or oblivion if they continue in their arrogant and self-destructive paths. What is needed is a new political movement which is born from the foundations of the MDC-T, the MDC, Zapu and other progressive forces. Anything outside of this is doomed to fail for the following reasons: The Zanu PF propaganda machinery, with the support of State apparatus, has created an aura of invincibility and this may lead some people within the two MDCs and even Zapu defecting to Zanu PF. The electorate may also give up on the MDC-T and either resort to apathy or voting for the status quo due to lack of a viable alternative.
It is a reality that many young Zimbabweans have fallen for Zanu PF's indigenisation "carrot" and many will unashamedly join the ranks of Zanu PF to benefit from the gravy train . Zanu PF will use all State apparatus at its disposal. Although the new Constitution bars political partisanship, it is unlikely that this will deter the party from using its dominant position in government to advance its own cause.
If the new Zanu PF government decides to pursue a middle-of-the-road and pragmatic economic policy, this may render the current opposition partially irrelevant. Zanu PF, unlike its opposition foes, already has its eyes on the 2018 elections and will move in to capture Bulawayo and Harare.
Massive capital injections may be made into ailing Bulawayo industries and water projects. Although Zanu PF has failed to do anything and has indeed contributed immensely to the demise of economic development in Bulawayo, President Robert Mugabe will do anything to salvage his legacy in an attempt to atone for the sins of the '80s and indeed the past 30 years.
Money for this may be sourced from either Chinese benefactors or proceeds from diamond sales which previously never made its way into the fiscal basket. This may have the effect of rendering MDC, and to a lesser extent Zapu, almost irrelevant and their marginalisation and under-development of Matabeleland focus will be neutralised. The two MDC-T metropolitan councils in Harare and Bulawayo may find themselves systematically frustrated by a central government dominated by Zanu PF.
At least this time around the Mugabe will not be able to appoint resident ministers or governors from his party due to the new devolution clauses in Chapter 14 of the Constitution. But with a two-thirds majority, Zanu PF can amend the Constitution.
The MDC-T needs serious leadership renewal at all levels. Quite clearly the Mugabe-must-go and Morgan (Tsvangirai)-must-reign era is gone. New leadership and strategies are needed. The party is still reeling from the effects of candidate imposition, corruption, complacency and strategy inertia. It is shocking that in four years of power-sharing with Zanu PF they failed to gather sufficient intelligence and information on the operations and election shenanigans of Zanu PF.
This is political incompetence and to contest the next elections under the same leadership would be suicide. The danger is that factionalism may become more rampant. The party may split as soon as Tsvangirai announces his retirement. Although incompetent, Tsvangirai's redeeming characteristic is the fact that he has managed to be a uniting figure.
However, this time if he stays on he may become a divisive figure as many argue that he willingly supped with Mugabe, endorsed the Zimbabwe Electoral Commission structure in its entirety, sided with Mugabe in sidelining Welshman Ncube and a day before the elections, declared that he was winning whether there was rigging or not
The only viable route is a political formation consisting of the four parties and other progressive elements with a new leadership. Those who currently lead the two MDCs should not be automatic choices. There should be room for new and dynamic leaders.
The new formation could also include remnants of Zanu PF. A party which hopes to unseat Zanu PF should have at least a significant number of people who know how Zanu PF operates. These people may be victims of Zanu PF succession politics and may help the new movement in moving forward.
This movement should be broad-based and embrace totally new strategies and incorporate new leadership. Dumisani Nkomo is an activist and opinion leader