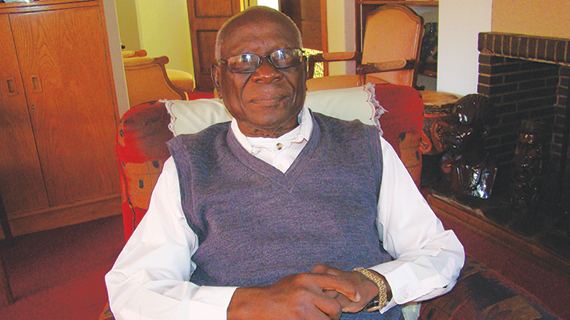 ZANU founding member Enos Nkala who died on Wednesday, changed his mind about being buried at the Heroes' Acre two years ago after he made disparaging comments about the national shrine, his family said yesterday.
Nqobile Bhebhe/Eshmael Mlambo
Nkala had stated that he did not wish to be buried at the Heroes' Acre, saying he disliked the shrine.
At the time he said the Heroes' Acre was copied from North Korea, stating that: "I'm not a North Korean. I'm a Zimbabwean, proud of what I am and my origin, so I'm not going to be thrown to some hill for the prestige of it."
But Herbert Nkala, speaking on behalf of the former Defence minister's family, said Enos had changed his mind before his death and would have wanted to be buried in Harare if Zanu PF accorded him the hero status.
Herbert said at the time of his death, Nkala, who had become a born-again Christian, told his family and friends that he had since changed his opinions about the shrine.
"He said if the party and government decided that he should (be buried at the national Heroes' Acre) he would have no problem with it," Herbert said.
"The family is confident that we are not going against his will."
The U-turn could have influenced Zanu PF's decision to award him the hero status. Former Matabeleland North governor Welshman Mabhena was buried at Lady Stanely Cemetery in Bulawayo after he stated before his death that he did not want to be laid to rest at the national shrine.
Nkala's hero status has been questioned by activists mainly from the Midlands and Matabeleland who cite his alleged role in the Gukurahundi genocide where a reported 20 000 people were killed in the 1980s. Zanu was formed at Nkala's residence in Highfield, Harare, in August 1963 and Zanu PF secretary for administration Didymus Mutasa said the party used its "wisdom" to award him hero status although he was no longer an active member.
Nkala served as minister of Finance, National Supplies, Home Affairs and Defence in the years leading to the 1987 Unity Accord that ended the Gukurahundi massacres. He vehemently denied any involvement in the killings, saying he had expressed his opposition to the operation that left over 20 000 civilians dead.
Before his death, Nkala said he was writing a book chronicling all that had happened in Zanu PF since its formation, including the Gukurahundi massacres and the assassination of several high-profile people using car accidents. He had said the book would be released after his death.
Meanwhile, Southern Eye was yesterday barred from covering the arrival of Nkala's body at One Brigade Headquarters in Bulawayo, allegedly at the instruction of the family.
Journalists were initially allowed into the barracks before the army's public relations officer Richard Mizha emerged 30 minutes later to say the news crew was no longer welcome.
"Officials said since this is not a military function, the Press was not needed," he said. "More so, there is no military parade taking place."
Outgoing Bulawayo metropolitan governor Cain Mathema and Zanu PF Matabeleland South chairperson Andrew Langa were the only notable senior party officials from the region who were at the barracks to receive the body.
Buses which had been provided for people to attend the function were barely full. (See Picture on Page 3)