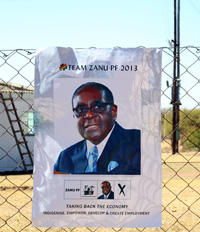 A MASVINGO man has landed himself in trouble after he allegedly tried to use President Robert Mugabe's July 31 election campaign poster as toilet paper.
Tatenda Chitagu, Own Correspondent
Takura Mufumusi (26) from Miekles Flats, allegedly went to a toilet at a city bar, but found no toilet paper.
He allegedly removed the Zanu PF poster emblazoned with Mugabe's face, plastered on the wall, intending to use it as toilet paper. But he was stopped by Osman Musengi, who was using the same toilet at the time.
Musengi made a citizen's arrest, leading to Mufumusi being arraigned before the courts last week for allegedly violating the Electoral Act or alternatively, destroying political party material.
Appearing for the State, Mukai Mutumhe told the court that on July 24 at about 7pm, Mufumisi was at Landmark Bar where he went to the toilet to relieve himself. While in the shank, he was seen tearing Mugabe's campaign poster intending to use it. He was seen by Musengi, who had also gone into the same toilet.
Musengi then effected a citizen's arrest before surrendering him at Masvingo Central Police Station. Magistrate Tinashe Ndokera remanded the case indefinitely as the State could not locate a witness.