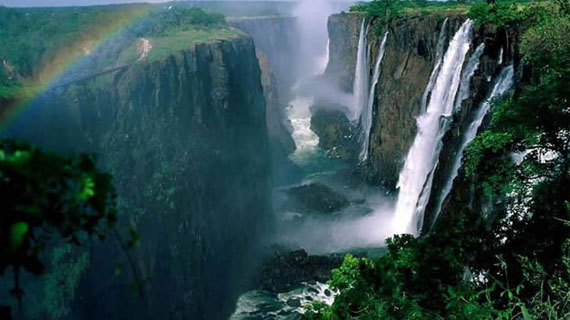 A spectacular opening ceremony last night marked the start of the 20th session of the United Nations World Tourism Organisation (UNWTO) General Assembly in Victoria Falls.
REPORT BY STAFF REPORTER
Zimbabwe and Zambia are hosting the six day event, held every two years and is expected to be attended by 1 200 delegates.
UNWTO secretary-general Taleb Rifai said: "This is the best-ever attended general assembly in all history." President Robert Mugabe officially opened the conference at the ceremony also attended by his Zambian counterpart Michael Sata.
The 89-year-old Zanu PF leader said he had signed hosting the event was a victory against his detractors". He thanked the UN for standing firm even when "some superpowers did not want Zimbabwe to co-host this event."
Mugabe also dwelled on the history of Zimbabwe's economic problems blaming them on "misguided World Bank policies and sanctions".
"It is on the basis of empowering the masses that I signed the agreement for Zimbabwe and Zambia to host the UNWTO conference," he said. "I and Sata have signed the book of tourism thereby making us tourism ambassadors to the chagrin of our detractors.
"Never mind our detractors. In West Africa they say 'never mind them'," Mugabe said mimicking a West African accent. United Nations Secretary-General Ban Ki-Moon wished Zimbabwe and Zambia a "productive meeting" through a video message played to delegates.
Meanwhile, UNWTO has advised delegates that no conference document will be distributed on paper "in compliance with the United Nations system's environmental protection policy" to save trees.
Mugabe and Sata lit the Victoria Falls bridge to close the official opening.