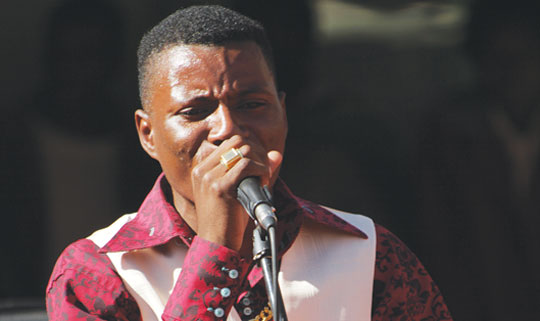 FANS of Peter Moyo, aka Young Igwe, and his Utakataka Express will on Friday have a chance to listen to his recently-launched debut album Mushonga Mukuru, when he descends on the city.
OWN CORRESPONDENT
Moyo has lined up a gig at Manor Hotel in Bulawayo. Tafadzwa Maridadi, event organiser, confirmed the show to Southern Eye Lifestyle  yesterday.
"Peter (Moyo) will bring his debut album to fans in the City of Kings. We promise nothing but fireworks," Maridadi said. He claimed that the Young Igwe had quickly fitted into his father's shoes.
"Peter is developing each and every day and there is no doubt his album is a bomb." The album Mushonga Mukuru, loosely translated means special medicine, features songs such as Konzi, Mira Newako, Barika, Tutsotso and Mwari Wenyasha, among others.
Moyo had previously made some false starts, but one year eight months after the death of his father, Tongai, he is near to fitting in the late legend's shoes.
Jah Prayzah has closely assisted Peter in his ventures. Utakataka Express has managed to maintain its legion of fans that fell in love with the late Samanyemba hit maker Tongai Moyo.