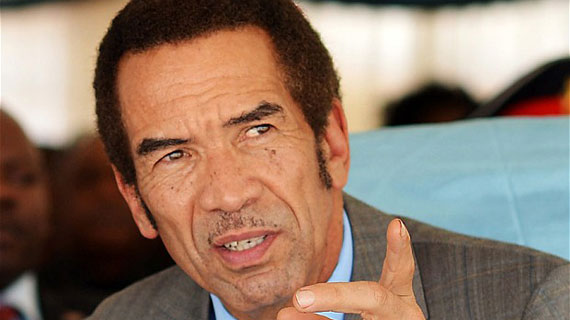 BOTSWANA has dismissed reports that it had made a climbdown on its stance on Zimbabwe's election outcome, insisting that the country's observer mission had noted some flaws and that it had not relied on reports by the MDC-T nor civil society organisations.
Nduduzo Tshuma
The State media reported Botswana, the only Sadc country to condemn Zimbabwe's elections, had had a change of heart, with Botswana's Foreign Affairs and International Co-operation minister Phandu Skelemani reportedly saying they had been "misled by the MDC-T and some elements of civil society at home and abroad on the conditions surrounding the polls".
However, Botswana government deputy spokesperson Jeff Ramsey said he was not aware of Skelemani's sentiments, but said their stance remained unchanged.
"Botswana's assessment of the elections is based on the report of the observer mission that we sent to that country," he said.
"We have never relied on information from any political party or civic organisation. The report of our observer mission is carried in our statement we made on the elections in Zimbabwe."
The State media yesterday claimed a source had informed them that Skelemani had requested a meeting with his Zimbabwean counterpart, Simbarashe Mumbengegwi, on the sidelines of the Sadc Troika meeting on Friday night "as it became clear that Botswana's position was becoming ridiculous in light of MDC-T leader Morgan Tsvangirai's failure to back his allegations of rigging in court".
Botswana recently called for an independent audit of the elections, saying the poll did not meet acceptable standards for free and fair polls. The neighbouring country also called for the inclusion of Zimbabwe on the agenda of the Sadc summit last Friday, saying the regional body should not set a precedent by endorsing Zimbabwe's polls as credible when they fell far short of regional standards.
Gaborone conceded that the election was free from violence and intimidation, but said there were a number of irregularities that discredited the outcome of the polls, like delays in providing the voters' roll.
Zanu PF reacted angrily to Botswana's statement on the election outcome, accusing the country's leader Ian Khama of sponsoring the MDC-T with campaign material, adding that they were not surprised by the neighbouring country's stance.
An unnamed government source alleged that Botswana's observer mission to last month's elections was funded by the European Union member states.